There are many different times you can test your blood sugar. While a fasting blood sugar test, one taken when you have not had anything to eat or drink for the previous eight hours, is typically used to diagnose diabetes, testing at other times throughout the day can help you keep your blood sugar under control. Depending on your needs, you may test your blood sugar as little as twice daily or as frequently as seven or more times daily. Your doctor will recommend when and how frequently you should test your blood sugar. At-home blood sugar testing is usually performed with a hand-held monitor.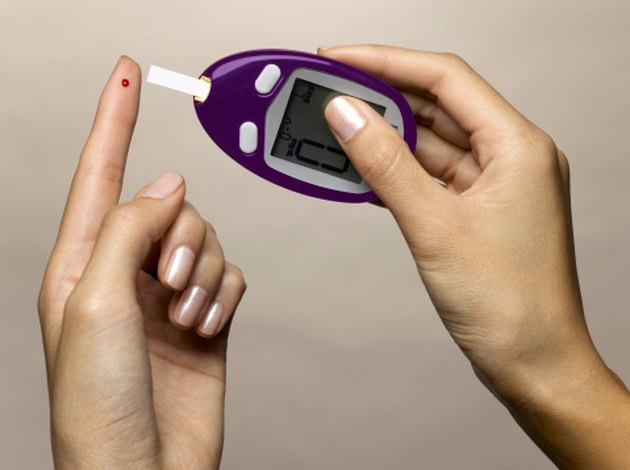 Before and After Meal Testing
A blood glucose level measured before a meal other than breakfast is typically a non-fasting blood sugar. Checking your blood sugar before a meal can help you choose which foods you can eat, which foods you should avoid, and how much insulin you should take if you are on a sliding scale. Testing your blood sugar about two hours after your meal lets you know how your body is processing your meal and whether you have enough insulin in your system to handle the food you ate. Fasting and before meal blood sugars should be in the 80 to 120 mg/dL range and after meal blood sugars should be less than 180 mg/dL, or as directed by your doctor.
Nighttime Testing
Many people with diabetes need to test their blood sugar before bed, and some even need to test during the night. Low blood sugar levels before bed can lead to hypoglycemia, a condition that can go unrecognized in the night and become dangerous. Some people, on the other hand, experience a phenomenon known as dawn syndrome, when their blood sugar rises near dawn even though they have not recently eaten. Testing your blood sugar at bedtime and during the night can help you and your doctor know more about keeping you healthy. If your bedtime blood sugar is 100 mg/dL or below, your doctor may recommend a bedtime snack and/or testing during the night.
Random Testing
Random testing is testing not necessarily associated with a particular time or event, such as a meal or bedtime. Random testing can help you track your blood sugar levels throughout the day, or confirm hypoglycemia or hyperglycemia. If your doctor has recently made a change in your medication, he may ask you to test more frequently throughout the day to gauge how your new medications are working. If you are sick, your blood sugar values can fluctuate widely and may need to be closely monitored through frequent testing. Random testing should result in blood sugar readings between 70 and 199 mg/dL; random testing with results of 200 mg/dL or more usually indicates the need for further testing to diagnose and treat diabetes.