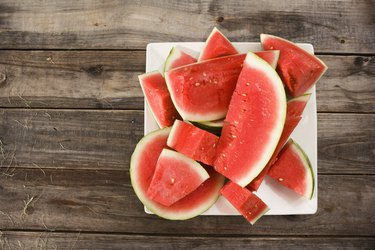 You don't need to ask for lemon or lime with your water at most restaurants these days — it's just served that way. And while there is no denying that citrus fruits provide colorful presentation to your meal, it's also important to understand the nutrition behind both citrus and non citrus fruits.
Tip
Fruits that are not from the citrus family include apples, pears, watermelon, raspberries, blackberries, blueberries, melons, bananas, kiwi and more. Try making a mix-and-match fruit salad!
Citrus Background and Popularity
There are numerous fruits available for us to consume, but what differentiates a citrus fruit from a non citrus fruit? It all comes down to family genetics. All citrus fruits come from a family of flowering plants called Rutaceae that originated in places like Australia, New Guinea and Southeast Asia. Popular all over the world now, citrus fruits and their zest are used in all types of dishes, desserts and cocktails.
While there is a longer list of citrus varieties and hybrids available today, Colorado State University calls out the most popular ones as oranges, grapefruits, mandarins, clementines, lemons and limes — all of which boast their own delicious flavor profiles. Citrus fruits like oranges and mandarins are often enjoyed on their own, while others — like grapefruit and lemons — can be quite bitter to the palate. For this reason, they are often squeezed into beverages to dilute the bitterness or paired with complementary ingredients.
You may have heard that citrus fruits are high in vitamin C, and that's definitely true. According to the California Foundation for Agriculture in the Classroom (CFAITC), one regular-sized orange supplies a full day's worth of the nutrient, helping to promote a healthy body and disease prevention. But the list of nutrition attributes noted by CFAITC goes on — citrus fruits are also low-calorie sources of carbohydrates and fiber, and are low in sodium, cholesterol and fat.
Researchers continue to study the benefits of citrus fruits, too. A 2015 study published by the U.S. National Library of Medicine National Institutes of Health shows a strong connection between citrus fruits and their anti-oxidative, anti-inflammatory, anti-cancer, anti-microbial and anti-allergy effects, as well as their ability to provide cardiovascular and neurological protection.
The downside of citrus fruits? The citric acid intrinsic to citrus fruits can cause tooth enamel to dissolve overtime. If you love your lemon water, try drinking it through a straw to minimize impact. For people prone to gastroesophageal reflux disease (GERD), citric acid may also exacerbate symptoms like heartburn, nausea and a sore throat. According to Harvard Health Publishing, it's smart to avoid foods that trigger this burning reflux, as part of a GERD sensitive diet.
Citrus fruits are just the tip of the iceberg when it comes to incorporating healthy fruits into your diet. The good news is that there are lots of non citrus fruits to choose from, as well, that will leave you highly satisfied. For instance, pineapple is not a citrus fruit, yet it can also be used to flavor water or enhance dishes like pineapple fried rice.
Other fruits without citric acid include apples, pears, watermelon, raspberries, blackberries, blueberries, melons, bananas, kiwi and more. Try making a mix-and-match fruit salad! All of these non citrus fruits are packed with vitamins, potassium, fiber and antioxidants which can all be incorporated into a healthy diet. And don't be shy about it either — the USDA recommends between one and two cups of fruit per day for women and men 31 to 50 years old.