The egg diet is a protein-rich diet that primarily involves the consumption of eggs and other lean proteins. While eggs are nutritious and healthy foods, they should still be consumed in moderation. If you choose to follow an egg diet, make sure you vary the proteins you're eating.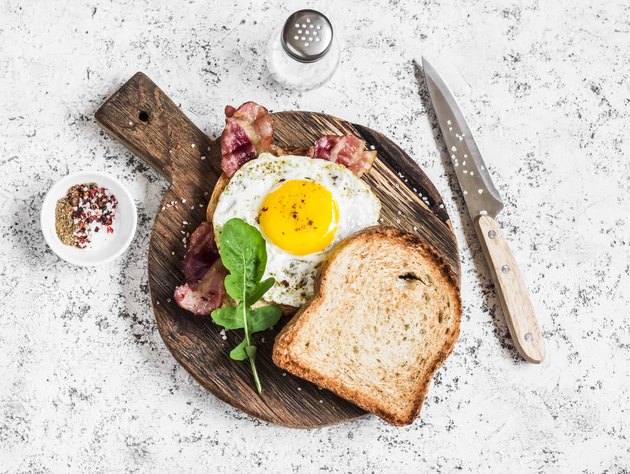 Tip
It's typically recommended that you consume about an egg a day — or even two, on occasion. You shouldn't eat more eggs than this as they are high in dietary cholesterol.
What Is the Egg Diet?
Weight loss is usually the goal of those following the egg diet. This diet involves the consumption of more protein than average, and primarily one other type of macronutrient. While some egg diets also increase fat consumption in a similar manner to ketogenic or low-carb diets, other versions of this diet focus on the consumption of low-fat proteins and fiber-rich carbohydrates.
Eating eggs can have a variety of health benefits, but the egg diet is often considered to be a crash diet. As with many similar diets, the egg diet requires you to alter your calorie consumption and macronutrients in order to lose weight. However, unlike healthy diets that promote weight loss, the egg diet typically doesn't provide you with enough calories or nutrients on a daily basis.
If you've chosen to follow the egg diet, you should do so only for a short period of time. Long-term consumption of this fad diet could lead to health issues.
Boiled Egg Nutrition Facts
Most people following the egg diet are hoping to lose weight, which means that they're trying to consume the most nutritious egg dishes with the fewest added ingredients. You might think that raw eggs are the best choice, but the human metabolism actually prefers cooked eggs. According to an October 2017 study in the Medical History Journal, soft-boiled eggs are easier for your body to digest compared to most other types of eggs, including scrambled and fried eggs.
While the USDA does not provide information for soft-boiled eggs, the nutrition facts for hard-boiled eggs are fairly similar. A large (50 gram) hard-boiled egg's calories are fairly low, at 78. The calories come from 6.3 grams of protein, 0.6 grams of carbohydrates and 5.3 grams of fat.
8 percent of the daily value (DV) for vitamin A
20 percent of the DV for riboflavin (vitamin B2)
14 percent of the DV for vitamin B5
6 percent of the DV for folate (vitamin B9)
23 percent of the DV for vitamin B12
6 percent of the DV for vitamin D
7 percent of the DV for phosphorus
5 percent of the DV for zinc
28 percent of the DV for selenium
27 percent of the DV for choline
In addition to these nutrients, eggs also contain small amounts (between 1 and 4 percent) of minerals like calcium, iron, potassium, magnesium and copper and vitamins like B-complex vitamins and vitamin E. Eggs also contain other nutrients, like antioxidants, carotenoids and beneficial bioactive peptides.
Every large, hard-boiled egg has 186.5 milligrams of cholesterol — more than half of what was previously recommended as the daily maximum intake. Eggs cooked in animal fat like butter or bacon fat have even more cholesterol.
The Cholesterol in Eggs
Build the membranes of your cells.
Make vitamin D.
Make hormones, like testosterone and estrogen.
Make fat-dissolving bile acids, which support digestion.
Despite its essential roles in your body, you don't need to consume cholesterol as you do other vitamins and minerals. Your liver and intestines are able to make the majority of your body's cholesterol. Just 20 percent comes from foods like eggs.
It's exactly because so little cholesterol comes from your diet that dietary cholesterol is no longer thought to be harmful. Since the dietary recommendations changed, studies have shown that moderate egg consumption is healthy. A June 2018 study in the American Journal of Clinical Nutrition even showed that short-term consumption of up to 12 eggs per week shouldn't have any negative effects on your health.
However, no research has studied the effects of three or more eggs per day or the effect of large amounts of eggs on long-term health. Consequently, it's probably safe to say that you should consume no more than 12 eggs per week if you're following an egg diet, as indicated in the American Journal of Clinical Nutrition study. The American Heart Association recommends eating about one egg per day to help reduce the risk of heart disease and stroke.
Egg Diet Pros and Cons
In general, eggs are good for you and should be incorporated into your diet. Beyond their general nutritional benefits, a December 2014 study in the Journal of Nutrition and Food Science has shown that they have other health benefits too. Egg proteins can help prevent hypertension and cancer as well as improve immune system function and nutrient absorption.
However, the egg diet is not for everyone. For example, Harvard Health Publishing states that people who have diabetes, a history of cardiovascular problems or heart disease shouldn't consume more than three eggs per week. If you're healthy and choose to follow an egg diet, it's best not to overdo it. Instead, stick with the American Heart Association's recommended amount of one egg per day.
You should also be conscious of the other foods that you consume while on an egg diet. Most variations of the egg diet recommend consumption of proteins from animal sources. Many animal products are rich in saturated fat, which can increase your cholesterol and potentially harm your cardiovascular health.
If you are going to consume a high-protein, low-carb diet like the egg diet, make sure that some of your protein sources contain healthy unsaturated fats. Fish, like salmon, sardines and herring, all contain essential polyunsaturated fatty acids and are rich in a variety of other essential nutrients too.