Eggs do not cause any digestive problems for most adults, unless you have an underlying digestive condition. If you suffer from an egg allergy, egg intolerance or irritable bowel syndrome, you may not be able to consume eggs without developing adverse reactions. If your body reacts negatively after consuming eggs or foods that contain eggs, call your doctor. Most conditions can be managed through dietary changes or with medications.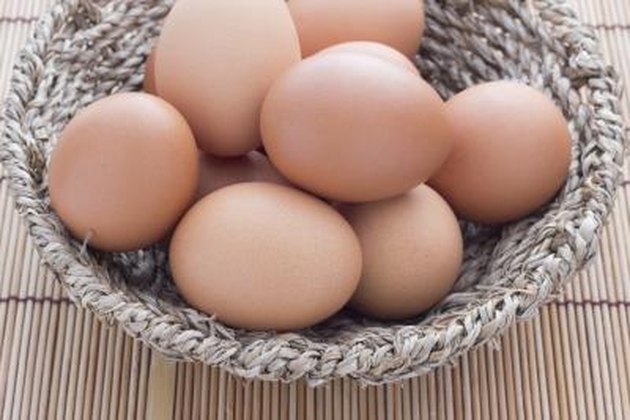 Egg Allergy
Eggs are not only a common food ingredient, they are also a common food allergen. Consuming eggs or products that contain eggs will cause digestive complications, along with other symptoms in your body. Most allergic reactions occur within a few minutes after consuming eggs, and they are triggered because your immune system doesn't react appropriately to the proteins in the eggs. Your immune system mistakes the proteins in the eggs as dangerous, when they are in fact safe. The body attacks the proteins, causing inflammation in your intestines and other soft tissues. An egg allergy can cause diarrhea, nausea, vomiting and stomach pain.
Egg Intolerance
Egg intolerance is commonly confused with egg allergies because of similar symptoms that develop after consuming eggs. Egg intolerance is the result of a defect in your digestive system, not of an allergic reaction to eggs. During digestion, your small intestine produces certain enzymes used to break down the proteins in eggs. If you lack the appropriate enzymes to break down these proteins, you can develop nausea, vomiting, gas, bloating, diarrhea and cramping. Most egg intolerance does not affect any part of your body aside from your digestive system.
Elimination Diet
In order to confirm that eggs are causing digestive complications, you may need to participate in an elimination diet. An elimination diet is intended to identify the foods that are triggering your symptoms, and it is not intended to serve as a diagnosis. Under the direction of your doctor, eliminate eggs from your diet for two weeks. Reintroduce eggs into your diet at the completion of the two weeks, and start recording your findings once you do. The University of Wisconsin School of Medicine and Public Health reports that if at any point during the diet you develop severe symptoms, you should discontinue the diet and call your doctor.
Irritable Bowel Syndrome
Some foods may affect any symptoms you may have related to irritable bowel syndrome, or IBS, which is a common condition that affects your digestive system. Eggs may or may not affect your IBS symptoms. If you've been diagnosed with IBS and consuming eggs causes chronic constipation, diarrhea, abdominal pain or bloating, you may need to avoid eggs in the future.