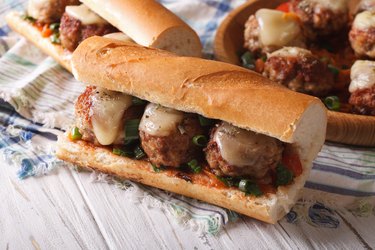 The Subway meatball sub, or as it's officially called, the Meatball Marinara, is a simple, Italian-style sandwich that features meatballs, marinara sauce and a sprinkle of Parmesan cheese all piled on top of an Italian sub roll.
The nutrition facts and meatball sub calories listed on Subway's website are for a standard 6-inch Meatball Marinara with no substitutions or additions. However, if you want to make the sub your own by customizing it, keep it mind that will change things.
Subway Meatball Sub Nutrition
The standard serving size of a Subway meatball sandwich is 6 inches, although as any Subway goer knows, you can make the choice to turn it into a foot long if you prefer. While you do have several choices of bread (like 9-grain wheat, Italian herbs and cheese and roasted garlic), the original Meatball Marinara is served on a traditional Italian sub. If you order the Subway meatball sub just as it is, you'll get:
430 calories

18 grams of total fat

7 grams of saturated fat

48 grams of carbohydrates

4 grams of fiber

8 grams of sugar

20 grams of protein

40 milligrams of cholesterol

1,040 milligrams of sodium

Make it a Subway Footlong Meatball Marinara instead, and you'll get:
860 calories

35 grams of total fat

13 grams of saturated fat

96 grams of carbohydrates

9 grams of fiber

16 grams of sugar

38 grams of protein

75 milligrams of cholesterol

2,020 milligrams of sodium
Keep in mind this is just for a basic Meatball Marinara sandwich that comes with meatballs, marinara sauce and a sprinkle of Parmesan cheese on Italian bread. If you add any extras — like cheese or bacon — the nutrition facts will change. For example, each slice of American cheese will add 40 calories and 3 grams of fat, while a portion of bacon changes the 6-inch meatball sub calories to an even 500 and adds 5 grams of fat.
Choosing a Healthier Option
Although the Meatball Marinara might not be the healthiest option on Subway's menu, that doesn't mean that the chain doesn't have something to offer, especially when you're in a pinch and need a meal fast. In an effort to appeal to more health-conscious people, Subway created a Fresh Fit line of subs that provide whole grains, two servings of veggies and a good amount of protein. If you want to keep your calorie and fat intake in check, you can choose from one of these subs which include:
Oven Roasted Chicken

Black Forest Ham

Turkey Breast

Veggie Delite

If the Fresh Fit subs don't sound appealing, you can create your own healthier sandwich by sticking to some guidelines from Mayo Clinic:
Watch your portions. Pick the smallest sandwich and ask your sandwich maker to scale back on the meat and give you less than they normally would. Deli meat is loaded with sodium, and when you're ordering at to-go restaurants like Subway, they often add more than one serving.

Go for healthier side dishes, like a small salad, instead of a bag of chips.
Choose whole grain breads instead of white bread, like Italian. They provide more fiber and can help keep your blood sugar more stable.

The Academy of Nutrition and Dietetics adds that you can save extra calories and fat by holding off on any sides, like chips or a cookie. Instead, double up on the veggies to fill your stomach and maximize your nutrient intake. The American Academy of Family Physicians also points out that it's important to watch what you drink. While a soda may sound like a good accompaniment to a sub, a large soda or a fruit punch can add 300 calories and tons of sugar. Stick to water instead.