Conjugated linoleic acid, or CLA, is a type of fat found in dairy products, beef and supplements that is sometimes recommended for weight-loss purposes. The evidence for this is conflicting, however, and simply taking CLA supplements isn't likely to lead to significant weight loss, unless you make other changes, such as exercising more and eating less. Check with your doctor before taking these supplements to make sure they would be safe for you, and get advice on when to take them -- as the timing of supplementation hasn't been well-studied.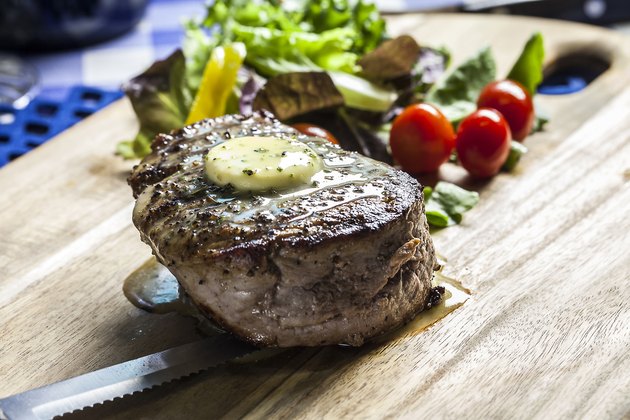 CLA and Weight Loss Benefits
A number of studies have shown some potential benefits for weight loss from taking supplemental CLA, including a study published in Nutrition in 2012, which found decreases in body fat, body mass index and waist-to-hip ratio with CLA supplementation for 12 weeks. A study published in the British Journal of Nutrition in 2007 found that CLA supplementation for six months led to decreases in body fat, but this reduction occurred mainly in women with a body mass index of at least 30 and the fat loss was mainly in the legs. Another study, published in the International Journal of Obesity in 2007, found that taking CLA supplements for 6 months helped people limit weight gain and reduce their body fat.
Contradictory Results
Although some studies have shown potential weight-loss benefits from CLA, many others do not. A review article published in the European Journal of Nutrition in 2012 found that there wasn't any convincing evidence that CLA had any long-term effects on body composition. Even in studies that show some potential benefits, the benefits aren't necessarily in any quantities that add up to significant weight loss. Any fat loss CLA that brought on tends to be very minimal, according to a study published in The American Journal of Clinical Nutrition in 2007.
Potential Ways CLA Helps With Weight Loss
According to a review article published in the Journal of Nutritional Biochemistry, potential mechanisms for the effect of CLA on weight loss include limiting the development of new fat cells, decreasing food intake, increasing energy expenditure, destroying cells for fat storage and improving fat metabolism. These theories are mainly based on animal studies, however, and CLA might not have these same effects in people.
Effects of CLA in Combination With Exercise
CLA is sometimes recommended to bodybuilders as a way to increase muscle mass and limit body fat. There isn't enough scientific evidence to back up this use, however. For example, a study published in 2002 in the Journal of Strength Conditioning Research found that taking CLA supplements for 28 days didn't provide any significant body-composition benefits for experienced resistance-trained athletes beyond those of resistance-training workouts alone.
Potential Side Effects From CLA
A review article published in Critical Reviews in Food Science and Nutrition in 2006 noted that some studies showed a potential for CLA to have adverse effects on cholesterol levels and insulin sensitivity. Another review article, published in the Journal of Lipid Research in 2003, found that some types of CLA may potentially damage the liver and may decrease the fat concentration in breastmilk. Neither of these studies showed significant benefits of CLA for weight loss or body composition. Not all studies show these same adverse effects for CLA, however; a review article published in 2004 in The American Journal of Clinical Nutrition found that most studies showed no adverse effects on cholesterol levels, but also found little to no benefit for weight loss in people. Other potential side effects include diarrhea, soft stools and constipation.