Walnuts are a popular nut commonly grown across much of the United States. Although available year-round in most grocery stores because they can be easily stored unshelled, walnuts are harvested in the late summer and early fall months. The daily recommended serving of walnuts is one-quarter cup, equivalent to 1 ounce, 12 to 14 halves or 1 handful. Walnuts boast powerful health benefits, containing many times the amount of nutrients as some other nuts.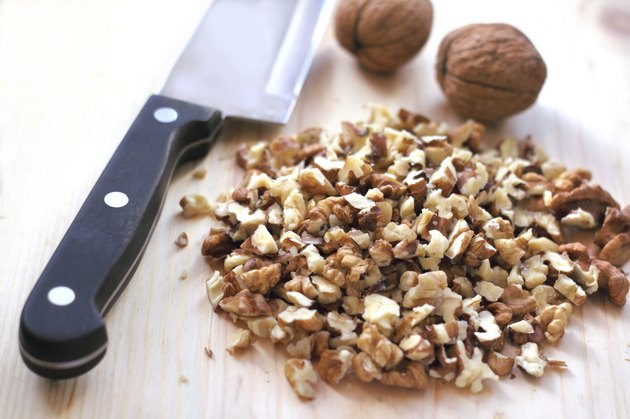 Forgivable Fat
One one-quarter-cup serving of walnuts contains 18 grams of total fat. Although the overall fat content is higher than many foods, the fat in nuts is "good" fat, with 2.5 grams of monounsaturated and 13 grams of polyunsaturated fat, rather than "bad" saturated fat found in meat and dairy products that raise cholesterol levels. Walnuts top the charts as the only nut with a significant source of omega-3 fats at 2.5 grams, five times more than pecans, the nut with the next highest amount of omega-3s.
Calorie Counters: Carbs, Fat, Protein
The majority of calories in walnuts come from their fat content, with 190 calories per one one-quarter-cup serving. Each gram of fat contributes 9 calories, accounting for 162 calories from the 18 grams of fat in one serving. The rest of the calories in one serving of walnuts come from the 4 grams of carbohydrates and 4 grams of protein, each contributing 4 calories per gram.
Nutrient and Antioxidant Powerhouse
Walnuts weigh in as the highest source of polyphenol antioxidants among tree nuts and peanuts, according to a study published in "Food and Function," with 69.3 micromoles per gram in the raw walnuts and 107 micromoles per gram in the roasted variety. Additionally, a one-quarter cup serving of walnuts provides one-quarter of your daily recommended value of copper and one half of your daily recommended value of manganese.
Varieties, Buying and Storing
The most common varieties of walnuts are English and black walnuts. Walnuts are harvested August through November and stored in-shell to maintain a year-round supply. Shelled walnuts are available in the produce section of grocery stores in the fall and winter months. Unshelled walnuts are available year-round in bags and bulk bins. Whether shelled or unshelled, walnuts store best in cooler temperatures in an airtight container. Store them in the refrigerator if you plan on eating walnuts a few days after purchase. Keep walnuts in the freezer for long term storage.