Black cohosh is a dietary supplement derived from the root of the Acteae racemosa plant. The University of Maryland Medical Center website reports that this medicinal herb has been around for more than two centuries. When considering herbal supplements that effect weight loss, black cohosh should be taken into account — not because it helps you lose weight, but because in may actually work against the process. Herbal supplements may counteract the ability of some prescription medications to work, so consult a doctor before beginning a regimen that includes black cohosh.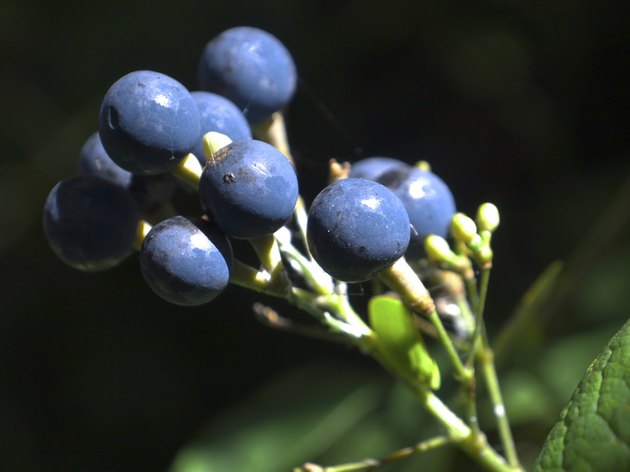 Hormone Treatment
The main use of black cohosh is to regulate hormone levels in postmenopausal women. Studies indicate that results vary as to whether the herb helps with hormone fluxes, especially estrogen. Some women may take this supplement hoping that regulating hormones will keep them from gaining weight. The truth is weight gain is a possible side effect of black cohosh, according to The Office of Dietary Supplements. Taking black cohosh to eliminate weight gain will probably not be effective and may backfire by causing you to gain weight.
Side Effects
MayoClinic.com lists some of the side effect of black cohosh treatment as frontal headache, dizziness, slow heartbeat, low blood pressure, nausea and vomiting. It is possible that the sick feeling you have from taking black cohosh may keep you from eating and result in a small amount of weight loss. This is not a good type of weight loss. Odds are, once you feel better, you will start eating again and the weight will come back on. Some side effects might keep you from exercising and activity is essential to a healthy lifestyle and ideal fitness level.
Symptoms of Menopause
When a woman enters perimenopause, the time prior to the end of menstruation, she may have unpleasant symptoms, such as hot flashes. In theory, if you can control the problems with entering menopause, you might be more active and control your weight. The studies regarding black cohosh are inconclusive. While theoretically, easing into menopause may be ideal for helping with your weight, there is no guarantee. You should not take black cohosh unless your doctor feels it is beneficial.