Garlique is best described as a garlic supplement. And like similar dietary supplements, it's purported to lower blood cholesterol. The Mayo Clinic states garlic might help improve cholesterol levels in some individuals. But, as of 2010, a class action lawsuit had been filed against the makers of Garlique, stating the claims of this supplement's benefits are misleading. And the conflicting evidence surrounding the use of garlic supplements to lower cholesterol, especially for the long term, has created even more speculation.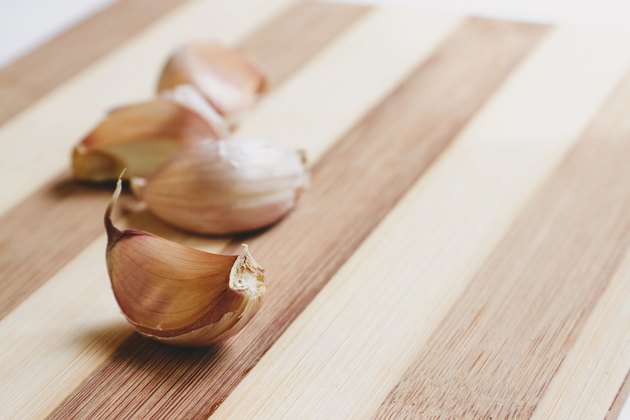 High Blood Cholesterol
High blood cholesterol is often categorized as a lipid disorder. This basically means you have too many fatty substances in your bloodstream, says the National Institutes of Health. The more fat in your blood, the more likely it will accumulate along your arterial walls, which narrows and hardens the arteries, making it difficult for the heart to transport blood throughout the body. This increases your risk of heart disease, heart attack and stroke.
Garlic Supplements
Garlic supplements are thought to inhibit the synthesis of cholesterol and thereby lower low-density lipoproteins, or LDL cholesterol, in the bloodstream. This "bad" cholesterol is the main culprit behind the narrowing and hardening of the arties. However, a study conducted by the Stanford Prevention Research Center and Department of Medicine at Stanford University contradicts garlic's purported benefits. The study demonstrated that garlic, be it raw, powered or aged, had no significant impact on LDL when taken six days a week for a total of six months.
To make matters worse for the makers of Garlique, the Archives of Internal Medicine conducted an analysis of 45 randomized trials and 73 other studies, finding garlic supplementation might be of benefit only in the short term. Ultimately, this means garlic is at best a stopgap for treating high blood cholesterol.
Diet
Instead of using a dietary supplement of garlic, like Garlique, the National Heart, Lung and Blood Institute recommends making dietary changes to lower your cholesterol levels. The most significant and beneficial change you can make involves saturated fat, which should be kept at no more than 7 percent of your daily calories, advises the American Heart Association.
It's also important to limit trans fat to no more than 1 percent of your caloric intake and dietary cholesterol to no more than 300 mg each day. Eating more fruits, vegetables, whole grains and fish high in omega-3 fatty acid is also helpful in improving cholesterol levels.
Excess Weight
Though poor diet is the likeliest culprit to lipid abnormalities, other lifestyle factors can also negatively influence cholesterol levels, including excess weight. The Mayo Clinic asserts that losing just 5 lbs. can improve your cholesterol. Lowering your caloric intake and increasing your level of exercise can help you accomplish this.
Other Lifestyle Factors
Lack of physical activity and tobacco smoke are both known to increase cholesterol, so try to incorporate more physical activity into your daily life while you give up tobacco use. You need to get at least 30 to 60 minutes of exercise most days of the week to make an impact on your numbers.