Fish oil contains large amounts of omega-3 essential fatty acids, necessary for brain function as well as normal growth and development. Fish oil supplements are commonly taken by adults for a variety of heart health benefits including decreasing triglyceride levels, cholesterol, blood pressure and risk of heart disease and stroke. Rheumatoid arthritis sufferers may also decrease symptoms when taking fish oil supplements. Generally, fish oil may be taken at anytime, though in some instances the time of day does matter. Don't forget to discuss with a health care provider to determine if fish oil supplements are the correct supplements for you.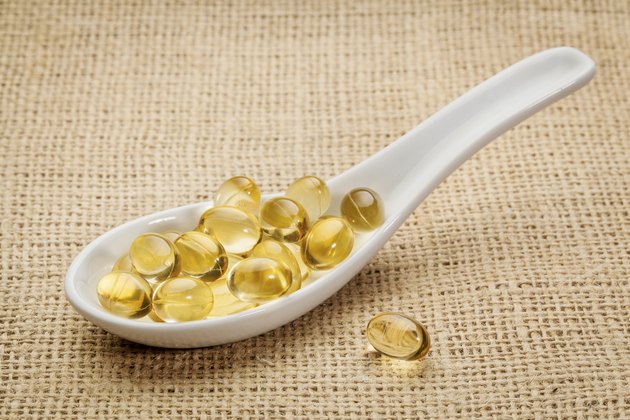 Meal Times
One of the most common complaints of taking fish oil is fishy burps and belches. To decrease the embarrassing side effect, you might want to take the supplement right before eating meals. The food will buffer some of the fish odor when mixed with your meal. Taking fish oil capsules with food may also help reduce any stomach upset you might feel from taking the supplement.
Frozen
Fish oil supplements may be frozen to reduce the fish odor. Store fish oil capsules in the freezer and them out when it is your scheduled time to take the supplement. The frozen fish oil capsules will slowly dissolve in your stomach and this may make the unpleasant side effects less noticeable. Read your fish oil's label to ensure you are able to freeze that particular product.
After a Physician Visit
Though fish oil supplements are sold over-the-counter and are available without prescription it is important to not take the supplement until discussing the side effects with a medical professional. Fish oil is a natural blood thinner and may affect clotting times in your body. Too much fish oil may put you at risk of internal bleeding as well as skin bruising. Some medications should not be taken with fish oil supplements including anticoagulant drugs such as warfarin and aspirin. Patients suffering from severe heart disease and irregular heart rhythms should avoid taking fish oil supplements. If you are taking over 3 g of fish oil per day, it is recommended to be under physician's care.
Warning
You should not begin taking fish oil or any other supplement without first talking with your doctor. You may have a health condition or take a medication that will interact with the supplement and your doctor can help ensure you avoid drug interactions and other exacerbating conditions