The adrenals are glands near the kidneys that produce numerous hormones, including the sex hormones and cortisol. Because cortisol plays a large part in how the body deals with stress, the adrenals can become fatigued when you are under significant stress. Since the adrenals also produce so many other hormones, when they become fatigued, many other systems of the body are affected. When all of these systems become affected, there are often telltale signs that appear on the face.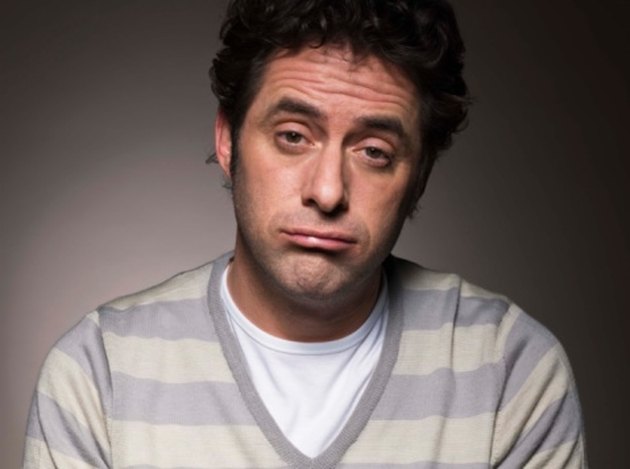 Dark Circles Under the Eyes
Cortisol is the hormone that controls our "fight or flight" response. The level of cortisol in our body fluctuates throughout the day, typically being higher in the morning and lower at night. When you suffer from adrenal fatigue, the levels of cortisol in your body are abnormal, making it difficult for you to sleep at night and awaken in the morning. Therefore, people with adrenal fatigue will often have dark circles under their eyes.
Dark Patches of Skin
When the adrenals become fatigued, the pituitary gland will often produce more of a hormone called corticotropin to try to stimulate them to make more cortisol. Excess corticotropin can cause pigmentation in the skin, so a person with adrenal fatigue will sometimes have patches of dark skin on his face.
Hair Loss
Androgens are another type of hormone produced in the adrenal glands. When the androgens are low, hair loss can result, especially in women who don't have enough testosterone to counteract the effects of low androgens.
Dry Skin
Another hormone produced in the adrenal glands is aldosterone. Aldosterone plays a large part in keeping the sodium and potassium levels balanced in the body. When the adrenals cannot produce enough of this hormone, those levels will then become imbalanced, which can result in dehydration and, therefore, dry skin. Progesterone and estrogen levels can also become irregular in cases of adrenal fatigue, which can also lead to dry skin.
Acne
When the levels of estrogen and progesterone become irregular because of adrenal fatigue, acne can also result, especially if the progesterone levels become low in relation to levels of estrogen.
Considerations
While the above can be signs of adrenal fatigue, keep in mind that many of these factors can also be signs of other problems in the body. It is always best to consult a physician so that proper tests, such as blood and saliva samples, can be done to diagnose adrenal fatigue.