The charcoal that is used for medicinal purposes is vastly different to the variety that's found in barbecues and artists' toolkits. Medicinal, or activated, charcoal is used for a range of conditions, from treating cases of poisoning to relieving digestive problems, a common side effect of which is stomach bloating, says the Wellsphere website.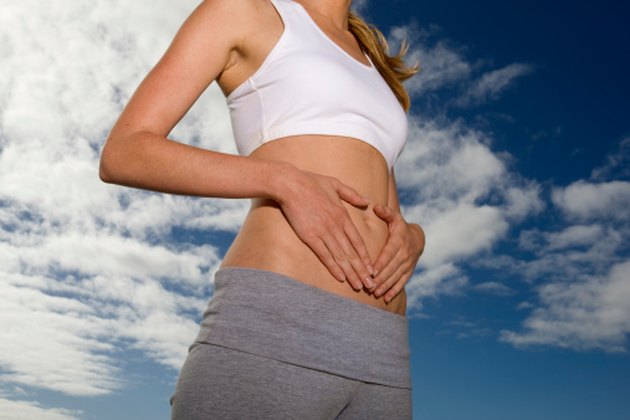 About Activated Charcoal
Activated charcoal is a fine black powder that is highly absorbent, with the ability to limit the toxicity of almost any chemical that finds its way into your digestive tract, says the emedicinehealth website. Activated charcoal is available in liquid, powder and tablet forms. The liquid and powder forms are most commonly used in the case of poisoning, whereas the tablets are generally used to relieve more general health issues, such as digestive problems.
Activated Charcoal For Stomach Bloating
With its ability to absorb most poisons, charcoal can be very effective in soaking up the less harmful, but uncomfortable, acids and gases that accumulate in your gut, says the Wellsphere website. These substances can cause indigestion, acid reflux and a bloated stomach. A charcoal supplement can help absorb these gases and deflate your stomach for a flatter appearance, says the Mail Online website of the UK's Daily Mail newspaper.
How To Take It
Activated charcoal is tasteless and odorless, so there is no unpleasant sensation when taking it or afterward, says the Wellsphere website. But that doesn't mean you should take charcoal tablets like candy -- the Wellsphere website recommends that you always swallow them with a full glass of water, preferably distilled, as other liquids may reduce the effectiveness of the supplement. For stomach bloating, the Mail Online website recommends taking two to three tablets three times a day. However, read the instructions on your specific product to be sure.
Precautions
Because of its highly absorbent nature, activated charcoal can soak up essential nutrients in your gut as well as harmful toxins, says the Wellsphere website. For this reason, it is important that use caution when taking it and always follow the usage and dosage directions. Some of the signs that this supplement is having an adverse effect on you are constipation, vomiting, stomach pain and diarrhea. It is also recommended you wait a few hours between taking any other medication and taking charcoal to allow your medications time to absorb into your system. To be sure, discuss all of your medications, illnesses and allergies with your doctor before starting to use a charcoal supplement.