Cortisol is a very important hormone, because it influences inflammation and plays a role in the stress response. The adrenal glands secrete this hormone into circulation four times per day. Its earliest and largest release, which occurs around 8 AM, effectively provides the energy to start the day. Cortisol levels naturally decline throughout the day, but in cases of long-term and repeated stress, cortisol levels can unnaturally spike. However, natural substances, like herbs and vitamins, can reduce high cortisol levels.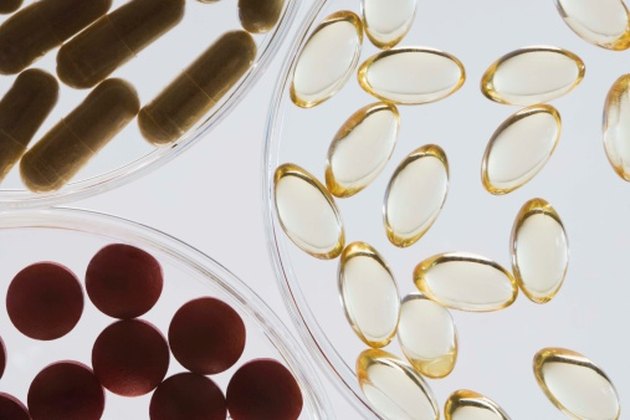 Vitamin C
Vitamin C is probably best known for its immune-boosting properties. However, naturopathic physician, Dr. Tori Hudson, notes that this vitamin is an important modulator of chronically high or deficient levels of cortisol. Vitamin C is a precursor nutrient needed in the formation of stress hormones, but in chronic stress situations, adrenal stores of this vitamin are depleted and blood levels drop.
A 2003 "Psychology Today" article noted that supplementing with vitamin C helped abate the signs of stress, such as high cortisol levels and hypertension, by blunting its release. A suggested supplement dose was 1000mg per day. However, high quality, winter citrus fruits, such as grapefruit, oranges and kiwi are adequate sources as well. Changes to diet and addition of new supplements should be discussed with a doctor before use.
Phosphatidylserine
Phosphatidylserine is a fat-soluble nutrient that is found abundantly in the brain and other lipid-rich tissues in the body. Hudson notes in the Natural Medicine Journal that it is being studied for its ability to blunt the release of cortisol from the adrenal glands by suppressing the stimulatory signal sent from the brain. A 2004 "Life Extension Magazine" article concurs with this fact and states that phosphatidylserine was found to reduce high cortisol levels by 20 percent after a stressful event. Life Extension recommends that phosphatidylserine should not be taken right before bed or on an empty stomach, as it can make it harder to fall asleep and possibly lead to nausea. The use of phosphatidylserine should be discussed with a physician before use.
B Vitamins
B vitamins are known for their ability to reinforce metabolism and provide energy to the cells of the body. They also support the adrenal glands. Chronic stress depletes levels of specific B-vitamins, namely B6 and B5, which is also known as pantothenic acid, and can lead to stress related symptoms such as headaches, fatigue and insomnia.
Magnolia
Magnolia officinalis is an herb from the Traditional Chinese Medicine (TCM) system of health. It has many health promoting properties, according to the book, "The Cortisol Connection" by Dr. Shawn Talbott. In addition to being a potent antioxidant, a 1% concentration of the active ingredient honokiol in the magnolia plant helps balance the effects of stress, including anxiety. The author further notes that a 250 to 750mg dose per day reduces night-time cortisol levels, helping to deal with stress-induced insomnia. The use of herbs for treating high cortisol levels should be discussed with your doctor before use.
Rhodiola
The herb Rhodiola is classified as an adaptogen, which means this herb helps maintain normal mental and physical function while undergoing prolonged stress. The sports and bodybuilding magazine"Flex" notes in a 2009 article that after a month of supplementation with rhodiola, cortisol levels were significantly reduced in study participants and indicators of memory and concentration were improved.