Drinking vinegar has been used as a natural remedy for thousands of years. Early records from China, the Middle East and Greece describe the liquid treating ailments like digestive issues and sore throat and serving as an antibacterial balm for wound healing.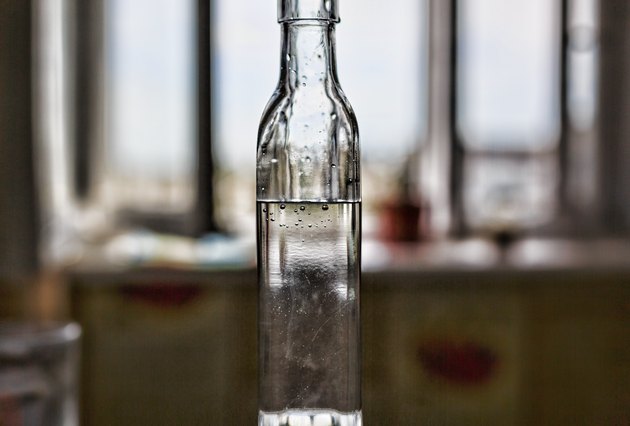 Tip
Vinegar has been shown to erode tooth enamel and cause digestive issues, such as nausea, delayed digestion and acid reflux, but for the most part, it's safe to drink if you have 1 to 2 tablespoons of diluted vinegar per day. Make sure you dilute it with either water or juice.
What Is Vinegar?
The word vinegar is traceable to the French "vin aigre," which means sour wine. There are many different varieties of vinegar. Each is made from a liquid produced from a plant food such as fruit, whole grains or potatoes. Some common types are apple cider vinegar, white wine vinegar, rice vinegar and balsamic vinegar.
All vinegars are made through a two-step fermentation process. For example, during the first fermentation step in making apple cider vinegar, yeast feeds on the sugar in crushed apples and turns them into alcohol. During the second step, acetobacter bacteria turns the alcohol into acetic acid.
Acetic acid is responsible for many of the health benefits of vinegar and is what gives it its tart flavor. Vinegar contains 4 to 8 percent acetic acid. The rest is mostly water, along with trace amounts of vitamins, amino acids and polyphenols. One tablespoon of vinegar contains between two to 15 calories.
Vinegar can be a great substitute for sodium and sugar in your diet, as most vinegars contain neither salt nor sugar while adding a tangy flavor to food. However, some vinegars are blended with fruit juices and might have added sugar. Be sure to look out for this by reading nutrition labels.
Vinegar is also fat and cholesterol free. If you are watching your fat and cholesterol intake, vinegar could be a great substitute for fatty dressings, marinades and sauces. Swapping out mayonnaise for vinegar in your salad dressing or marinade would be a great place to start.
Drinking Vinegar and Tooth Enamel
Vinegar's high acidity can erode tooth enamel, making your teeth more susceptible to tooth decay, pain and sensitivity. In a May 2014 study published in the journal Clinical Laboratory, researchers tested five different types of vinegar and found that each eroded tooth enamel to some degree.
Also, try to refrain from swishing the diluted vinegar around in your mouth before swallowing. If you swish it around, you're increasing the amount of time your teeth are exposed to the acid in vinegar, and it's more likely to damage your enamel.
Vinegar and Digestive Issues
Other Risks and Considerations
According to Harvard Health, your kidneys might have a difficult time processing the acid inside vinegar if you have chronic kidney disease. People with this illness should watch fluid intake in general, according to the National Institute of Diabetes and Digestive and Kidney Disease, so even diluted vinegar might not be a good option for them.
Consult a medical professional if you are considering supplementing your diet by drinking any type of vinegar for medicinal purposes. Also, keep in mind that many of the touted benefits of drinking vinegar are unsupported by research. Check with your health provider if drinking vinegar might be a good adjunct treatment for a condition you are managing.
Keep in mind, for the most part, vinegar is safe to drink. Just remember to consume it in small quantities and diluted in water or juice.