The idea that vinegar, a liquid produced by the action of yeast and bacteria on juices made from fruits or grains, might have medicinal properties isn't a new one. Vinegar was used to treat stomach upset in the Civil War and, further back, by Hippocrates as an antibiotic, nutrition consultant Beth Fontenot reported in "Nutrition Forum." However, drinking vinegar can have unpleasant and dangerous side effects. Never drink vinegar without first discussing it with your medical practitioner.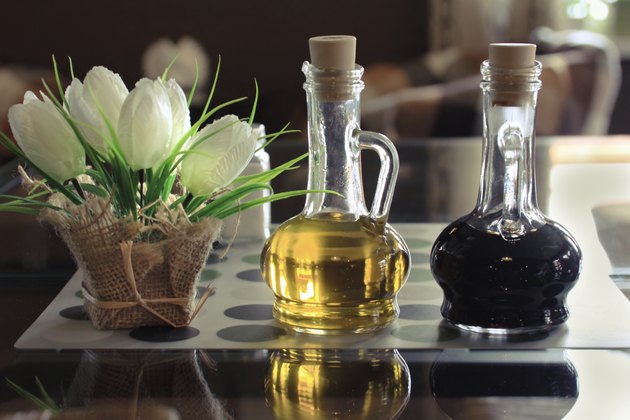 Caustic Burns
Vinegar is highly acidic. For this reasons, most proponents of drinking vinegar suggest diluting the vinegar with water or some other substance. Household vinegar contains 4 to 5 percent acetic acid, Dr. C.H. Chung of the Hong Kong North District Hospital Accident and Emergency Department reports in the "Hong Kong Medical Journal," making it a weak acid that can, nevertheless, cause caustic burns to the esophagus and stomach. Dr. Chung reports that a patient who drank 1 tbsp. of rice vinegar in an attempt to dissolve a bone stuck in her throat -- a common home remedy in China -- suffered inflammation in the throat and second-degree caustic burns in the esophagus. Second-degree caustic injury may require endoscopy for diagnosis and treatment, along with a special diet or possible surgery.
Tooth Enamel Destruction
The acidic nature of vinegar may erode teeth enamel. Made from the hardest substance in the human body, tooth enamel protects the teeth from breaking down and developing cavities.
Blood Thinning
Vinegar may have blood thinning properties, Columbia University Health Services warns. Don't drink vinegar without your medical practitioner's approval if you have a medical disorder that thins your blood and increases bleeding tendencies or if you take blood thinners, such as heparin or warfarin, to treat medical conditions; otherwise, increased bleeding could result.