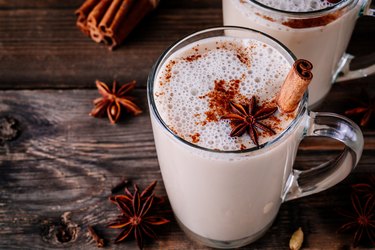 Dunkin' Donuts Vanilla Chai is a delicious drink with a sweet and spicy taste. It has just the right amount of caffeine to get you going without feeling jittery. Get the scoop on how many calories are in a chai tea, as well as ordering tips to make it more diet-friendly.
Tip
A medium Dunkin' Donuts Chai Tea contains 340 calories. Lighten it up by asking for skim or almond milk instead of whole milk, as well as sugar-free syrup.
Dunkin' Donuts Vanilla Chai Calories
Unlike regular hot tea that is brewed with plain water, vanilla chai is a warm beverage that contains black tea, vanilla flavoring and steamed milk. It also boasts a medley of spices that often include cinnamon, ground cloves, ginger, cardamom, black pepper and fennel.
Small (8 oz): 230 calories
Medium (14 oz): 340 calories
Large (20 oz): 450 calories
According to the USDA, regular black tea has 2 calories per cup. Adding in the extra ingredients for a vanilla chai does enhance its flavor, but it also increases the calories. Plus, this drink has a lot of fat, with 12 grams in a large vanilla chai.
On the positive side, it contains healthy black tea. According to the nutrition information from Dunkin' Donuts, it also provides 35 percent of the recommended daily allowance of calcium.
Wondering what's in chai tea? Each recipe could contain a different blend of spices, but Dunkin Donuts lists the ingredients in the Vanilla Chai as follows:
​Skim Milk, Vanilla Chai Powder: Sugar, Non-Dairy Creamer [Refined Coconut Oil, Corn Syrup Solids, Sodium Caseinate (a milk derivative), Mono and Diglycerides, Dipotassium Phosphate, Sugar, Sodium Stearoyl Lactylate, Soy Lecithin, Annatto and Turmeric (Colors), Artificial Flavors], Sweet Cream (Sweet Cream, Skim Milk Solids, Soybean Oil, Corn Syrup Solids, Sodium Caseinate, Soy Lecithin, Mono and Diglycerides), Instant Black Tea, Dry Molasses (Molasses, Maltodextrin), Natural and Artificial Flavor, Nonfat Dry Milk, Honey (Refinery Syrup and Honey), Xanthan Gum, Ground Cinnamon, Ground Clove.​
Additionally, a May 2019 study published in the ​International Journal of Health Sciences​ suggests that regularly drinking black tea may decrease the chances of developing cardiovascular disorders and hypertension. Its antioxidant effects are well-documented.
According to Dunkin' Donuts, Vanilla Chai also contains just 80 milligrams of caffeine in a medium cup, versus a medium black coffee, which has 210 milligrams of caffeine. The Mayo Clinic recommends healthy adults have no more than 400 milligrams of caffeine per day, so you can sip on this drink without worrying about going over your caffeine limit.
One downside of a vanilla chai is that it contains a lot of sugar. The large version boasts 66 grams of sugar per serving. An August 2019 review in ​Nutrients​ has linked the consumption of sugary beverages to a higher risk of weight gain, type II diabetes and cardiovascular disease. Luckily, there are some substitutions you can make to decrease the sugar (and fat) of this beverage.
Lighten Up Your Vanilla Chai
Consider swapping out the whole milk by ordering your chai with skim or almond milk instead. One cup of almond milk has just 39 calories and one cup of skim milk boasts 83 calories, while one cup of whole milk provides 149 calories.
Also, request sugar-free vanilla syrup or a reduced amount of regular syrup. Consider ordering a small cup of vanilla chai rather than a large one to save an extra 220 calories.
To keep things simple, you can just ask for a "light vanilla chai." However, if they need more direction, just follow this script: "I'll have a small vanilla chai, swap the whole milk for almond milk (or skim milk) and use sugar-free syrup, please."
If you're trying to maintain your weight or lose a few pounds, seek healthier alternatives. Homemade tea with vanilla, cinnamon and stevia, for example, tastes delicious and has no added sugars. You can always recreate the classic vanilla chai recipe from Dunkin' Donuts using low-fat milk, black tea, natural sweeteners and other ingredients.