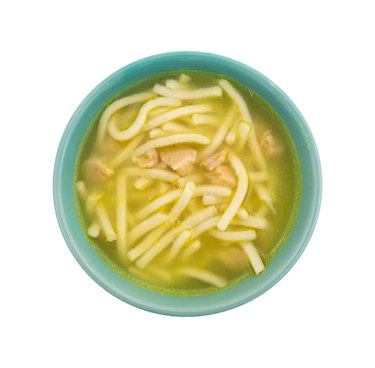 Lipton Noodle Soup is a dehydrated, chicken-flavored soup mix. You add hot water to the mix to rehydrate the noodles and create a broth. Lipton Noodle Soup is convenient, but consider its nutritional information before making it a regular part of your diet.
Types
Lipton Noodle Soup comes in four different versions: Original Chicken Noodle Soup, Chicken Noodle with diced white chicken, Extra Noodle and Ring-O-Noodle. All feature real chicken broth. The biggest difference among the versions is the amount or shape of the noodles. Two tbsp. of mix makes approximately 1 cup cooked soup.
Calories and Macronutrients
The Original soup contains 60 calories per 1-cup prepared serving. The version with diced chicken and Ring-o-Noodle contain 70 calories per cup, and Extra Noodle offers 90 calories per serving. The soups all contain 2 g or less of fat. Extra Noodle offers the highest protein content, with 3 g, while the other flavors have 2 g per serving. The soup flavors contain between 10 g and 15 g of carbohydrates, with Extra Noodle containing the highest amount.
Additional Nutrition Information
Lipton Noodle Soup with white chicken contains 20 mg of cholesterol, whereas the other versions have between 5 mg and 10 mg per serving. The noodles in the soup are made with enriched flour, so the soups offer at least 2 percent of the recommended dietary allowance for iron, 8 percent for thiamin, 6 percent for niacin, 4 percent for riboflavin and 4 percent for folate.
Sodium
One cup of prepared Lipton Noodle Soup contains between 650 mg and 730 mg of sodium. If you eat one whole pouch of the four in each box, you will consume double that amount -- 1,300 mg to 1,460 mg. The Institute of Medicine recommends limiting sodium to 1,500 mg daily.
Considerations
Lipton Noodle Soup contains monosodium glutamate, an amino acid that manufacturers use to enhance the flavor of food. The Center for Science in the Public Interest notes that such flavor enhancement may result in fewer "real" ingredients being included in products. MSG may cause reactions such as headache, nausea and weakness in sensitive people.