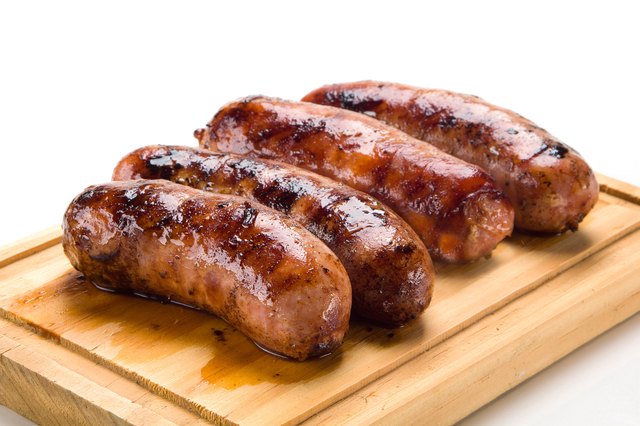 Sausage may be a meat product, but due to added fillers some types of sausage may also contain carbs. If you're following a low-carb diet, you'll need to read the nutrition label to look for ones lowest in carbs. Sausage is also high in fat and sodium, and while it may fit your low-carb diet, it may not always make the healthiest meat option for any weight-loss diet.
Carb Levels in Sausage
The amount of carbs in your sausage depends on your preferred style and brand. Beef or pork sausage makes a low-carb choice with 2 grams of carbs per 2-ounce serving. In addition to being a healthier meat choice, turkey is also a better low-carb choice with zero grams per serving. If you prefer meatless sausage, you may need to give up some of your veggies in order to fit it in --- it has 6 grams of carbs per 2-ounce serving.
While there are no set carb levels for a low-carb diet, some plans restrict your intake to 20 grams or less a day. That makes every carb count, even those in your meats.
Low in Carbs, but High in Calories
Carbs might be your main focus on a low-carb diet, but reducing calorie intake is how you lose weight. As a high-fat meat, sausage is a concentrated source of calories. While it might be hard to overeat calories when you're limited to 20 grams of carbs a day, if you're on a plan that allows more carbs, the extra calories from sausage may make your weight-loss efforts more difficult. Turkey sausage is lower in calories with 112 per 2-ounce serving vs. 226 calories in the same serving of beef or pork sausage. Meatless sausage falls in the middle with 146 calories.
Pay Attention to Fat and Sodium
Most sausage may not be a significant source of carbs, but it can be high in sodium and unhealthy fat. Beef sausage, for example, has 20 grams of fat, 7 grams of saturated fat and 530 milligrams of sodium per 2-ounce serving. Too much saturated fat and sodium in your diet increases the risk of heart disease.
Both meatless and turkey sausage are better choices when it comes to fat, with 5 grams of total fat in the meatless and 6 grams in the turkey. As for saturated fat and sodium, turkey sausage wins again with zero grams and 380 milligrams of sodium, while meatless sausage has 2 grams of saturated fat and 510 milligrams of sodium.
Low-Carb Sausage Serving Ideas
To keep carbs low on your low-carb diet and up the nutritional quality of your meal, pair your sausage with healthy veggies. Toss cooked spaghetti squash with crumbled sausage, and top it with a sprinkling of Parmesan cheese. Or saute red, green and yellow peppers with onions and serve with large sausage links for a colorful and delicious meal. Sausage also goes well with eggs -- try an omelet stuffed with spinach and mushrooms, or add sausage to a crustless quiche or frittata.
While you can include sausage in your diet, opt for healthier low-carb meats most of the time. Chicken and seafood seasoned with salt, pepper, sage, marjoram or garlic offer tasty alternatives to beef and pork sausage. You can also find healthy brands of ready-made chicken and fish sausage at the supermarket -- just make sure to check the nutrition label to ensure they're low-carb.