Aloe vera water, often called aloe vera juice, is made from the aloe vera plant, which has been used for centuries for its medicinal properties. The water has certain nutritional and health benefits, but the story isn't all good for certain kinds and flavors of aloe vera water. Ask your doctor about the risks and benefits of adding aloe vera water to your diet.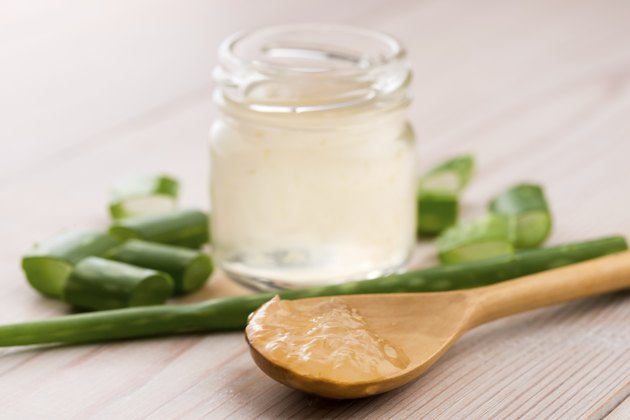 Nutritional Benefits
An 8-ounce serving of flavored aloe vera water contains between 60 and 70 calories. You'll also get about 30 percent of your daily value for vitamin C. Vitamin C helps protect your body from infection, maintains the health of your bones and teeth, and aids in wound healing. Aloe vera contains vitamin B-12, folate, choline, copper and potassium as well, according to a 2008 article published in the "Indian Journal of Dermatology," and means small amounts can make their way into aloe vera water.
Glyconutrients and Other Beneficial Compounds
Aloe vera juice contains eight sugars that form the eight essential saccharides, according to certified nutritionist Jonny Bowden, author of "The 150 Healthiest Foods on Earth." These sugars are present in compounds called glyconutrients; they're not sweet-tasting, nor do they create an immediate change in blood sugar like sucrose, or table sugar, does. Aloe vera contains 20 of the 22 amino acids humans require and seven of the eight that are considered essential, according to the article in the "Indian Journal of Dermatology."
Health-Protective Benefits
Aloe vera juice has anti-inflammatory properties in the digestive system, and it's sometimes used to help treat constipation and heartburn. The juice can also be used to treat inflammatory bowel disease, Bowden notes. Aloe vera can work by detoxifying the bowels, reducing fecal yeast and improving gastrointestinal function, he also reports. Properties in aloe vera water can have laxative effects, too.
Aloe Vera Water in Your Diet
Talk to your doctor before drinking aloe vera water to be sure it won't interact with any herbs, supplements or medications you're taking. Read nutrition and ingredient labels on aloe vera water, too. Some varieties contain added sugar, which decreases the water's nutritional value. Sugar adds calories to the beverage but not key vitamins and minerals. Figure any servings of aloe vera water that you drink into your daily calorie and sugar limits so you don't end up consuming more than you need.