Green tea allergy is not considered common, but according to Drugs.com, green tea may cause an allergic reaction that could be life-threatening. If you experience any negative side effects after consuming a product containing green tea, discontinue use and talk with your doctor. Most green tea allergy symptoms are similar to those of other food allergies and are the result of an overreaction of the immune system to compounds found in green tea. The body mistakes the compounds as harmful substances and attempts to fight them by producing IgE antibodies and histamine.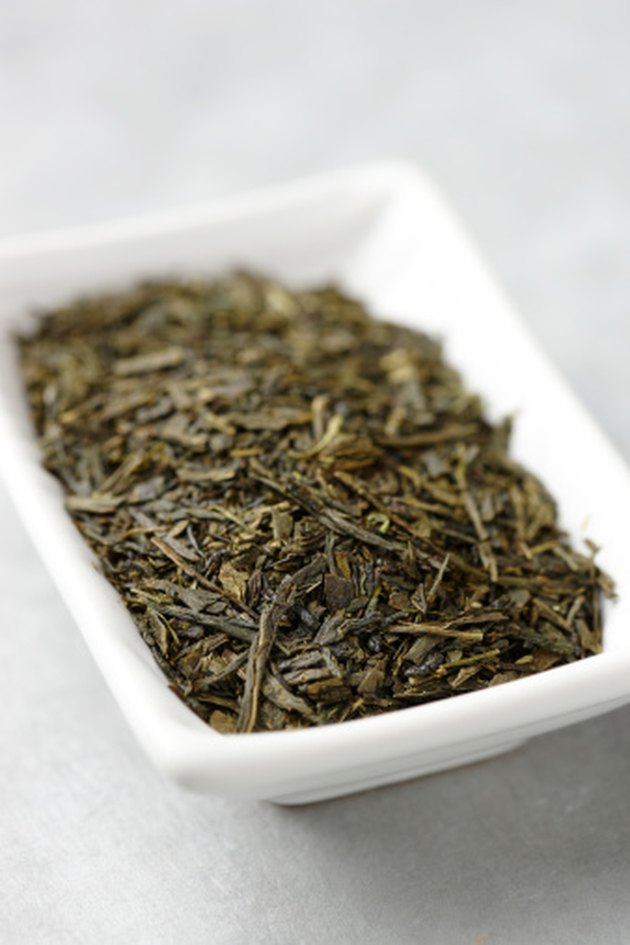 Respiratory Symptoms
One of the most common symptoms of any food allergy is reaction in the respiratory system, according to the Mayo Clinic. The sinuses are typically affected due to inflammation due to histamine. As the sinus cavity swells, it traps mucus, leading to increased pressure throughout the head. This can cause postnasal drip, sneezing, congestion, sinus headaches and facial sensitivity.
Asthma-like symptoms are also common, according to Drugs.com. Shortness of breath, difficulty breathing, excessive coughing and wheezing are all symptoms associated with food allergy.
Gastrointestinal Symptoms
Gastrointestinal symptoms will appear within a few minutes or up to an hour after ingesting products containing green tea if you have an allergy, according to MedlinePlus. Common symptoms include vomiting, bloating, diarrhea, gas and abdominal pain. Gastrointestinal symptoms are commonly mistaken for food intolerance, which needs to be examined and diagnosed by a physician.
Skin Reactions
The skin of an allergic individual may be affected by rashes or a tingling sensation. Common skin rashes associated with a green tea allergy are hives and eczema. Hives are skin welts that are extremely itchy, red and elevated. Hives can form in a matter of minutes, disappear and reappear for no reason. Eczema is a condition of the skin where the skin is hypersensitive. Tingling may be felt in the face, lips, throat or tongue, according to Drugs.com.
Severe Reactions
Although rare, green tea can lead to a severe allergic condition called anaphylactic shock. Anaphylactic shock occurs when a person experiences an all-body allergic reaction. Excessive amounts of histamine are produced throughout the body, causing the body to experience a state of shock. The throat swells, hives break out, blood pressure suddenly drops, pain in the abdomen occurs and the person can become dizzy and anxious. Anaphylactic shock can be deadly and needs immediate medical attention, according to MedlinePlus.