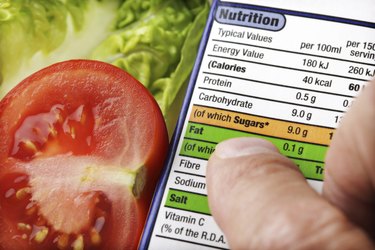 Calories refer to the amount of energy released by food, which is determined by the content of carbohydrates, protein and fat. You can either use that energy through physical activity or the body stores it in the form of fat for future use. The nutritional value of food has an effect on your overall health, but the key for maintaining a healthy weight is to watch the total number of calories consumed.
USDA Lists
Every printable calorie chart you might find is most likely based upon information provided by the United States Department of Agriculture. The website of the USDA's Agricultural Research Service includes several printable calorie lists. Begin with the nutrient list, which allows you to choose a category such as calories, proteins, carbohydrates, fats or individual nutrients. Then you can produce a list for that category that is organized either alphabetically by foods or in descending order according to the category. The calorie list includes portion size by weight and common measure and then tells the "content per measure," which is the amount of calories in that food item. If you want to know which foods have the highest calories, then choose to sort by content and that will produce a list that begins with high-calorie foods.
Basic List
If you want don't want to search through the USDA but would prefer a good excerpt of the most common foods, then the calorie-counting chart at chartsgraphsdiagrams.com is a good choice.
Fast Foods
A website called FastFood.com provides printable lists of items from 25 of the best-known fast food restaurants. Their lists include calories, total fats, cholesterol, sodium, protein, and carbohydrates. You can also search by food categories, such as pancakes or burgers, and obtain a list that compares the same items from each restaurant.
Nutrient Data
The USDA also has a web site for its Nutrient Data Laboratory that allows you to search for foods using up to five keywords. This feature allows you to find printable information that is specific to your needs, however it's not limited to calories. For example, searching for "apple" results in another list to help refine your search. If you choose "baby food" then you get a list of apple baby foods. You can then choose a generic value or a specific name brand and the result will be a printable list of all the nutrition information for that item, including calories.
Tools
The USDA offers free downloadable databases of nutrition information for use with Windows 98 and the Palm OS. If you're interested in a printable list that includes more than just calories (or more than one nutrient per list) the USDA also offers an 811 page list in alphabetical order by food item that provides an in-depth nutritional analysis of each item.