Rice comes in three grain sizes -- long, medium and short. It is most commonly consumed in its refined white form, which is sold after the outer husk and layer of bran have been removed. Brown rice is similarly relieved of its outer husk, but the bran is left intact, giving it a brown color and chewy texture. Wild rice is not actually a rice, but an aquatic grass seed commonly grown in Canada. It has a smoky flavor and chewy texture.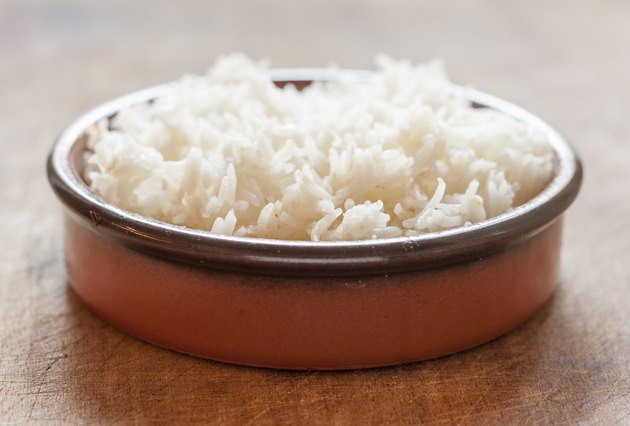 Vitamin B
All the known essential water-soluble vitamins, with the exception of vitamin C, are grouped under the category of "vitamin B complex," although, as the University of Michigan Health System (UMHS) notes, these vitamins do not bear any special relationship to each other and are only grouped together due to an early erroneous belief that they were all part of a single nutrient.
The B complex group plays various roles in the body's ability to produce energy. Wild, white and brown rice all contain varying amounts of vitamins B1 through B6. B12 is not found in rice, as it is only produced by animal food sources. Long grain brown rice contains higher amounts of B vitamins than does wild rice or white rice that has not been enriched.
Vitamin E
Vitamin E is found both wild, white and brown rice. Wild rice, with its .39mg of vitamin E per cooked cup, contains more than six times the amount found in white or brown rice, according to the USDA National Nutrient Database. Vitamin E is an antioxidant, protecting the body from damage caused by the presence of unstable molecules or free radicals. Vitamin E is active in preventing destruction to the cell membranes and fat-soluble tissues of the body.
Vitamin K
Vitamin K plays a role in bone growth and blood clotting by aiding in calcium transport throughout the body. The UMHS notes that vitamin K's ability to help blood clots form has been utilized by doctors in treating overdoses of the blood-thinning medication, warfarin. Vitamin K is most prevalent in leafy green vegetables, but some forms of rice contain vitamin K as well. Long grain brown rice provides the highest amount of vitamin K, at 1.2mcg per cooked cup, while wild rice provides about two-thirds the amount. White rice, unless is has been enriched, contains no vitamin K.