Although tortilla chips and guacamole are based on healthy ingredients — grain and avocado — the combination of these finished foods is not necessarily healthy. Chips and guacamole can be a high-calorie way to start your meal, so balance your meal carefully.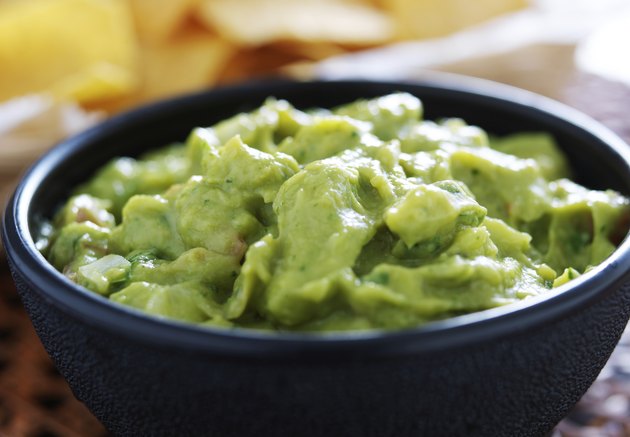 Calories
According to the free calorie-tracking app MyPlate from LIVESTRONG, one 8-ounce serving of chips and guac from Chipotle can contain 800 calories whereas a small order (2.6 ounces) of them from Taco Bell is 230 calories.
Macronutrients
Avocados, which are the base ingredient of guacamole, are rich in fat, and MyPlate notes that two-ounce serving of guacamole contains 7 grams of fat. Meanwhile, 1 ounce of chips provides 6 grams of fat, for a total of nearly 1 gram of saturated fat. The American Heart Association suggests limiting saturated fat intake to 16 grams daily.
The nutrition information from MyPlate notes that the eight-ounce serving of chips and guacamole from Chipotle contain a total of 81 grams of carbohydrates while a similar amount of Taco Bell's contains 92 grams. Neither chips nor guacamole are a good source of protein.
More About MyPlate
The free LIVESTRONG MyPlate calorie tracker app for iPhone and Android has helped millions of people lose weight the healthy way -- by getting support from an active community as they track their eating and exercise. Consistently a top-rated app, MyPlate offers the latest technology in an easy-to-use tool that includes millions of foods and recipes, 5-minute in-app workouts and a robust support community.