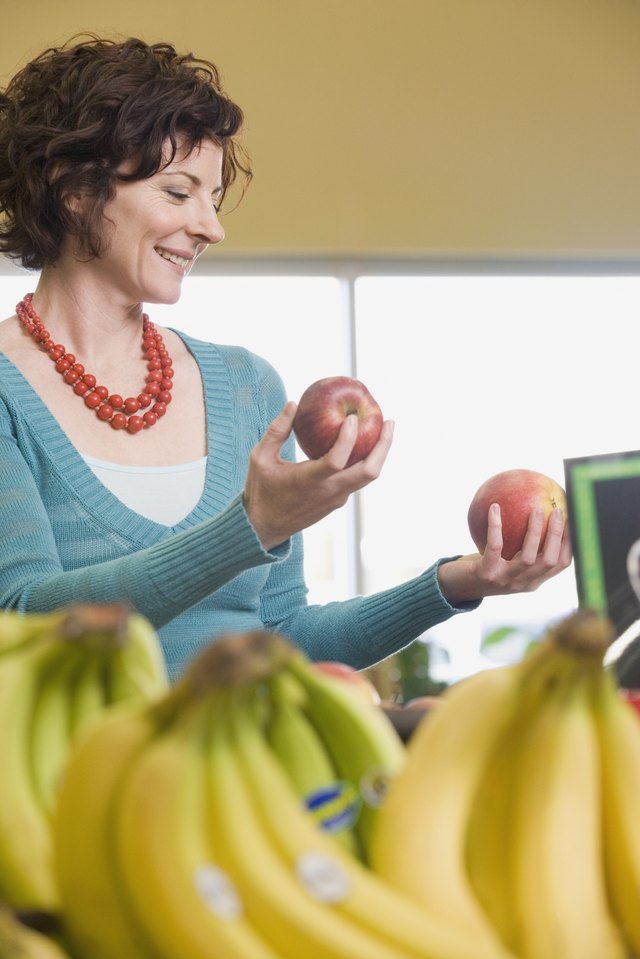 Apples and bananas can be easily incorporated into most weight-loss programs. Apples and bananas are low in calories and offer health benefits such as vitamins, minerals and fiber, but too much of a good thing can become a roadblock in weight-loss efforts. Portion control is the key component in using apples and bananas for weight loss.
Portion Control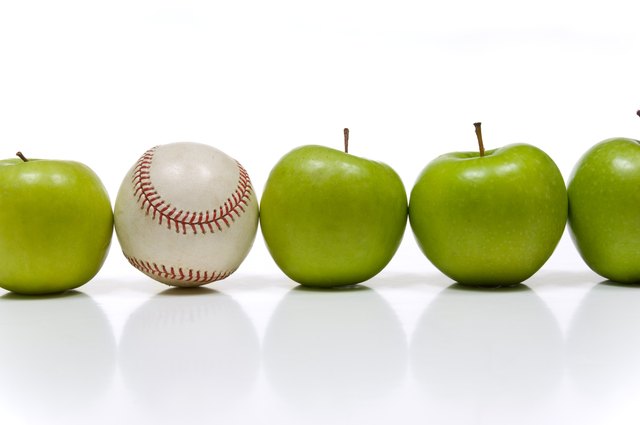 According to MyPyramid.gov, the average adult requires between 1 and 1 1/2 to 2 cups of fruit per day, and one small piece of fruit counts as a cup. The challenge then becomes in choosing the right size of fruit. Apples and bananas can range from small to extra large. For apples, about the size of a baseball -- or 5.3 oz. -- is an accurate adequate portion. For bananas, a 6- to 6 7/8-inch -- or 3.6 oz. -- banana is an accurate portion to count as one coup of fruit.
Calorie Control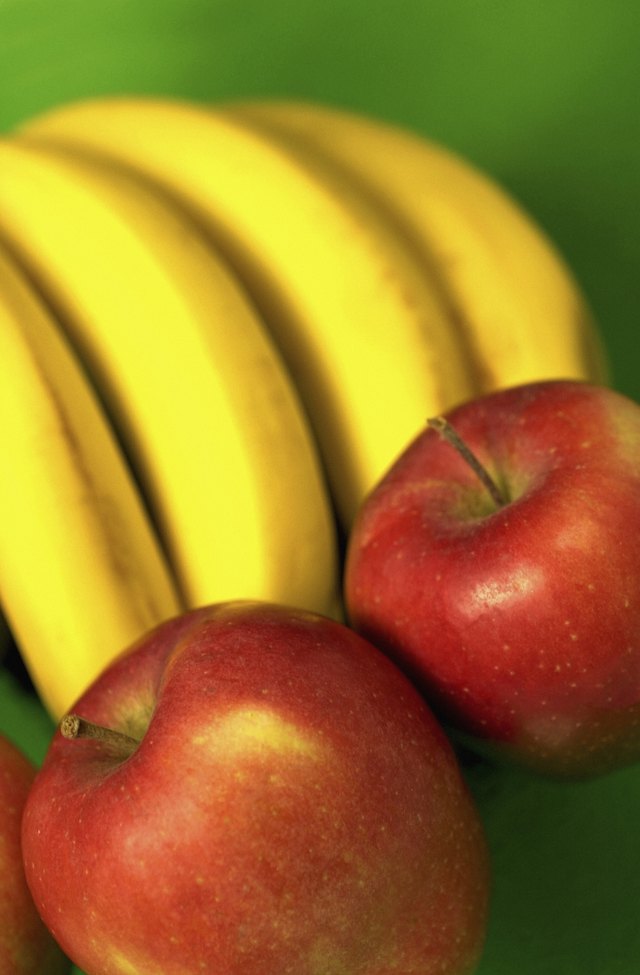 Losing weight requires a caloric deficit, which is achieved by either cutting caloric intake, increasing energy expenditure, or ideally a combination of both. A small apple provides only 77 calories and a small banana approximately 90 calories. The calories provided by apples and bananas come mostly from carbohydrates, which supply 4 calories per gram. Low-calorie foods can assist in weight loss.
Nutrient Rich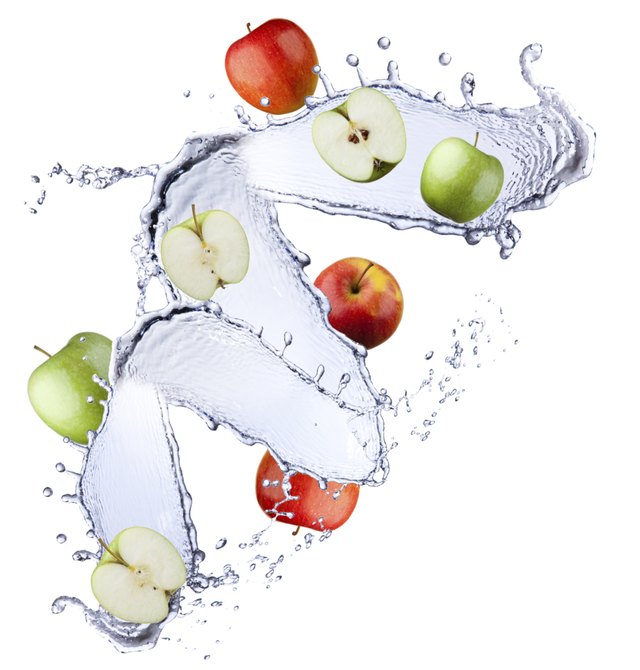 Apples and bananas provide healthy nutrients that are essential to support weight loss efforts. A small banana provides 2.6 g of fiber and 361 mg of potassium. Fiber assists in helping lower cholesterol and induces a feeling of fullness, which can prevent overeating. Apples contain 3.6 g of fiber along with antioxidants such as vitamin C and beta carotene that protect the body from disease. Daily fiber requirements range from 21 to 38 g per day, depending on age and gender. Fiber provides a longer-lasting feeling of fullness and therefore can prevent people from consuming excess calories.
Great for Dessert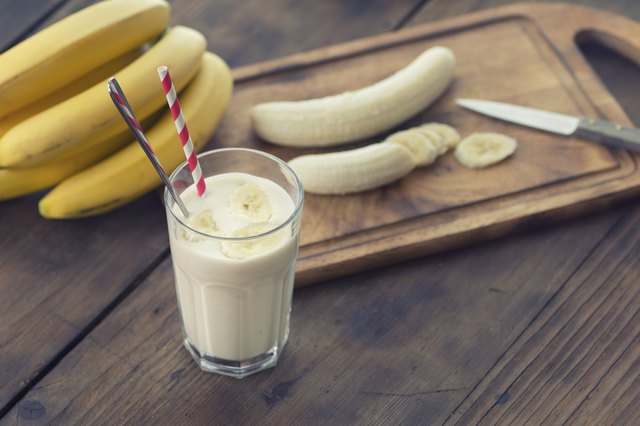 One challenge dieters face during weight-loss efforts is calming a sweet tooth. Apples and bananas are great for weight loss because they can be used as a dessert. For example, baking apples creates a sweeter and possibly more satisfying dessert. Fuji and gala apples can be used to bake a low-fat apple crisp dessert using a small amount of sugar, whole grain oats and cinnamon. Bananas also are great for dessert when sliced and served over non-fat yogurt and topped with walnuts, frozen and made into mock ice-cream or blended into a satisfying smoothie with chocolate whey protein powder.
Excellent Snacks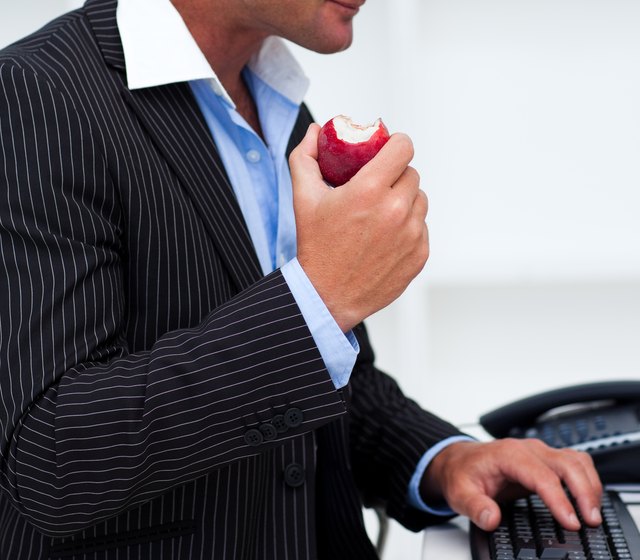 Apples and bananas are quick and easy to grab and go when you are at work, school or on the road. These portable snacks can be paired with string cheese, low-fat milk, yogurt, nuts or natural nut butter for a well-balanced snack. Combining apples and bananas with a lean protein or healthy source of fat provides satiety and calorie control, leading to weight loss.