Rich in polyphenols and other antioxidants, tea has long been consumed worldwide for its healing power. Tea with milk and sugar, on the other hand, isn't really that healthy. This popular beverage can increase your waistline, cause tummy pain and add empty calories to your diet.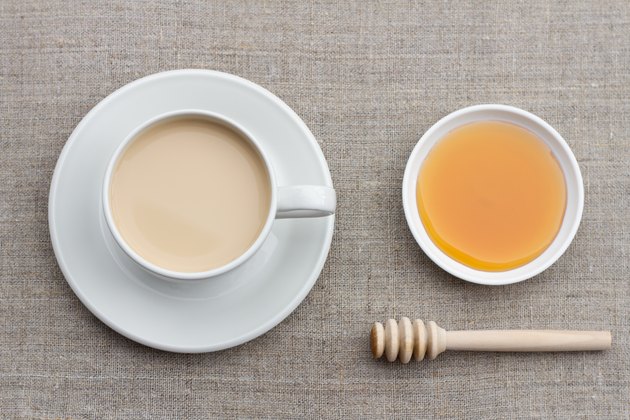 Tip
The calories in a cup of tea with milk depend on the type of milk used and whether or not you add sugar. This combo can have just as many calories as a can of soda.
The Healing Power of Tea
What can be more relaxing than sipping on a cup of tea while watching your favorite movie or reading a book you love? This beverage has a long history. It not only calms your mind and body but also promotes overall health. It might even take years off your face and protect against aging due to its high content of polyphenols.
Thousands of tea varieties exist and each has unique properties. Green tea, for example, is rich in antioxidants that protect your heart, brain and immune system. This beverage reduces oxidative stress, fights inflammation and improves cognitive function, according to a February 2019 review published in the journal Nutrients. Furthermore, it may protect your brain from free radical damage and slow cognitive decline.
A daily cup of tea might be exactly what you need to keep the pounds off. This functional beverage is high in catechins and other polyphenols that may facilitate weight loss, as reported in a May 2018 review featured in Molecules.
Researchers suggest that tea polyphenols may inhibit the absorption of fat and carbs, increase metabolism and activate fatty acid oxidation. Some types of tea also contain caffeine, which can further raise your energy expenditure.
There's a catch, though. To lose weight, you must drink unsweetened tea and refrain from adding milk, sugar or heavy cream. These extras can increase the number of calories in a cup of tea and cause you to pack on pounds.
Calories in Tea With Milk
Along with water and coffee, tea is considered a non-caloric beverage. It does contain some calories but too few to matter. This makes it ideal for dieters. You can enjoy it warm or ice-cold and use it as a substitute for soda and other sugar-laden beverages.
Green tea, for instance, has just 2 calories per cup — that's next to nothing. Plus, it contains no carbs, sugars or fat.
If you add one teaspoon of granulated sugar, you'll get an extra 15.4 calories and 4 grams of carbs. Add two teaspoons and you'll get 30.8 calories and 7.8 grams of carbohydrates. It may not seem much, but the calories add up.
Milk will further increase the number of calories in a cup of tea. Depending on what type of milk you use, you'll get:
Now let's do the math. If you add 2 tablespoons of condensed milk and 2 tablespoons of sugar to your cup of tea, you'll get 160.8 calories and 30 grams of carbs. That's about 1,126 extra calories per week or 4,502 calories per month from tea with milk and sugar — if you drink just one cup per day.
According to the Mayo Clinic, it takes an excess of 3,500 calories to gain one pound of fat. A daily cup of tea with milk and sugar can provide significantly more calories on a monthly basis. If you don't burn those extra calories through exercise or reduce your overall energy intake, you'll end up gaining weight.
What About Plant-Based Milk?
Milk and its derivatives contain lactose, a natural sugar. About 65 percent of the general population has lactose intolerance, as reported by the U.S. National Library of Medicine. Its symptoms occur about 30 minutes to two hours after ingesting milk or dairy and may include stomach pain, bloating, diarrhea and vomiting.
If you're intolerant to lactose, you may consider switching to plant-based milk substitutes, such as almond, coconut or soy milk. Although these products are considered healthy, they still provide calories.
Like cow's milk, vegan milk can increase your calorie intake. An occasional cup of milk tea is unlikely to cause weight gain — just make sure you don't go overboard. Tea is a healthful beverage that has its place in any diet. Add stevia, fresh lemon juice, vanilla or cinnamon to enhance its flavor and keep the calories low.