Domino's Pizza offers a number of menu items, including pasta, oven-baked sandwiches, chicken wings and breadsticks. Although these options are tempting, sometimes a classic cheese pizza just hits the spot. Before you indulge in a cheesy pizza, you should consider the caloric impact.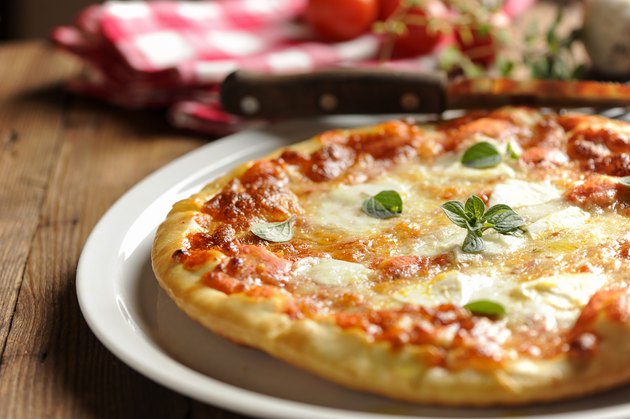 Crust
The 10-inch small-size pizza is available with only hand-tossed and thin crusts. The crust alone is a major source of calories. The hand-tossed crust on a slice of a 10-inch pizza contains between 120 and 230 calories. A slice of thin crust has 110 to 170 calories, according to the nutritional information provided on Domino's website.
Sauce
Domino's standard red pizza sauce provides the fewest calories with just 10 to 15 calories per slice. The garlic parm sauce provides the most calories, with 30 to 80 per slice.
Cheese
Domino's Pizza website explains that each pizza may be assembled and baked under different conditions, so calorie counts for a cheese pizza fall within a wide range. On a plain cheese pizza, the cheese adds between 60 to 130 calories per slice.
Total Calories
A standard hand-tossed pizza with red sauce and cheese contains between 190 and 375 calories per slice; a 10-inch pizza provides eight slices. One slice constitutes between 10 and 19 percent of your daily recommended calories, according to Mayo Clinic.