Sodium doesn't actually make your body gain fat -- it causes bloating and water retention that causes the number on your scale to rise. You can't predict, however, how much these numbers will increase when you overindulge in salty foods. Cutting back on salt helps you see quick weight-loss results in the initial stages of a diet plan, but understand that you're losing water weight -- not fat.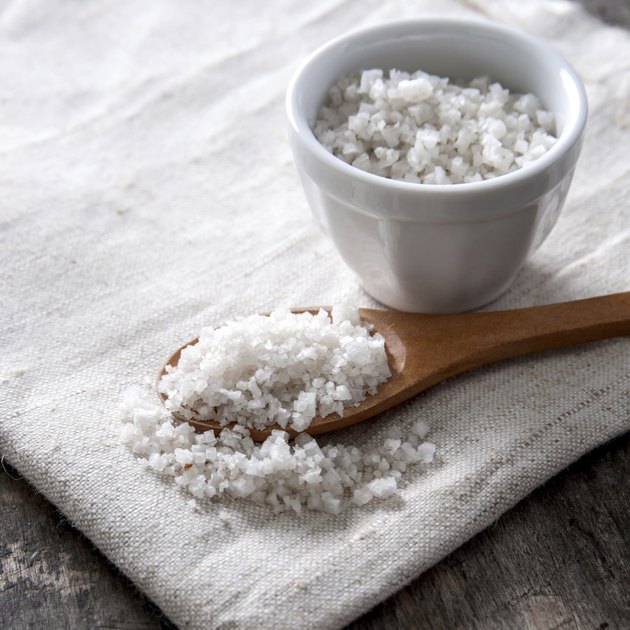 Normal Fluctuations in Your Scale
Eating out or enjoying an occasional binge on a bag of chips may result in a temporary water-weight gain of 3 to 5 pounds. Hormones, a tough strength workout and dehydration may also cause you to hold onto water weight.
If that weight hangs around for a week or more, chances are it's more than water weight and you need to examine habits that might be causing weight gain such as a change in your diet or a reduction in physical activity. Chronic water retention, characterized by a bloated face or constant swelling in your fingers, toes and ankles, should be brought to your doctor's attention, as it could indicate a medical condition such as kidney disease.
Recommended Sodium Intake
Salt, or sodium, is essential for proper bodily function. It acts as an electrolyte, playing a role in muscle firing and heart rhythms. Too much sodium, though, may contribute to an increased risk of heart disease, high blood pressure, kidney complications and thinning of the bones.
The average American consumes more than 3,000 milligrams of sodium per day. The Dietary Guidelines for Americans recommend that most adults have no more than 2,300 milligrams daily, and that people over age 51 or those who have high blood pressure, diabetes or chronic kidney disease, should have no more than 1,500 milligrams daily.
When you eat an abundance of salty foods, such as cured meats, packaged bread, canned soups and vegetables, fast food, salted nuts and potato chips, you easily surpass the recommended 2,300 milligrams per day and may experience water retention, which is your body's way of coping with the sodium.
How High-Sodium Foods Could Cause Fat Gain
Many foods with high sodium content, such as chips, fast food and refined bread, contain ingredients such as extra sugar, saturated fat and refined grains that can cause fat gain. You gain fat by consistently eating more calories than you burn. If you regularly eat too much of these foods, you'll likely gain weight.
To lose weight, serve meals made primarily from moderate portions of whole, unprocessed foods such as lean protein, fresh vegetables and whole grains. Season with plain herbs and spices and use salt moderately. Premixed seasoning packets and bottled sauces often contain high sodium levels.
Although a safe, sustainable rate of weight loss is 1 to 2 pounds per week -- which requires you create a calorie deficit of 500 to 1,000 calories per day -- you may experience more rapid weight loss during the first few weeks of a whole-foods weight-loss plan that reduces your sodium intake significantly. This initial weight loss is primarily due to water weight, but this loss can give you motivation to keep going.
Reducing Bloat From Salt
If you do feel bloated because you binged on sodium the day before, exercise can help you flush some of that extra water from your system. High-fiber foods, such as whole grains and fresh vegetables, and ample amounts of water, are other ways to help move waste, including water, through your system. Potassium and Vitamin B-6 act as diuretics, making you urinate frequently to reduce bloating. Foods rich in potassium include yogurt, bananas, oranges, spinach and broccoli. You will find vitamin B-6 in avocado, tuna and chicken breasts.
Ways to reduce your sodium intake include eating more fresh, whole foods that you prepare at home. When you eat out in a restaurant or cafe, skip the salt shaker and ask restaurants not to add salt to your plate. At Asian restaurants, request low-sodium soy sauce. Check the labels on processed foods such as salad dressings and canned soups; select low-sodium products whenever available.