When you're injured, you realize how much you take your body for granted. Foot injuries are especially frustrating and make you realize how much you need healthy feet.
While you'll have to modify your workouts, you can still get in the gym and do upper body strength-training exercises. For cardio, use machines like the upper body ergometer that take pressure off of your foot and use mainly your arms to power the exercise and a rise in your heart rate.
Upper Body Ergometer
The best cardio exercise for your foot injury depends on the severity of the injury. If you can't put any pressure on your foot, then your best option is to use an upper body ergometer.
This machine is basically a bike for your upper body. You sit down in a chair and face a crank with handles positioned around chest-level. Grip the handles and turn the machine in a circle. As you fight the resistance, you burn calories and your heart rate starts to elevate.
This machine requires you to put no pressure on your foot. It's purely an upper-body exercise, making it ideal for someone with a broken foot. And, you still get a good cardio workout even though you're only using your upper body. A 2010 study published in the Journal of Strength and Conditioning Research shows that an upper body ergometer is as effective at testing your fitness level as a regular exercise bike.
Battle Ropes
Battle ropes are large, heavy ropes that you slam rapidly. You can use them from either a kneeling position, to completely take pressure off of your feet, or from a standing position. They're similar to an upper-body ergometer in that you only power the exercise with your arms.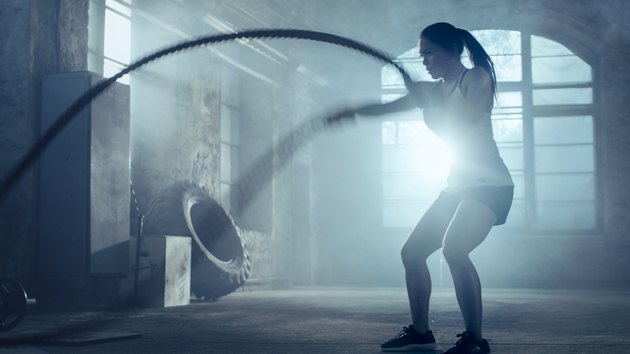 With battle ropes you can add a lot of variety to your workouts, which makes them less monotonous than an upper body ergometer. Slam the ropes in a variety of ways and plan different timed intervals of work and rest.
Upper body ergometers are still better if you have an injured foot, simply because they're more predictable than the heavy ropes. Still, if you're bored and need another form of cardio while your foot heals, try the battle ropes.
Swimming
Swimming is one of the best exercises for a lower-body injury because you don't have to worry about gravity putting pressure on your limbs. You can do strokes like the freestyle and use your legs minimally to power yourself forward. You might also put a pull buoy between your legs so you don't have to kick at all.
You do have to be careful when you swim, however, because there's a tendency to want to kick. When you kick your flex your feet against the water. Swimming is slightly more dangerous for your feet than upper body ergometry, which is why it's not the single best cardio exercise for a foot injury.
Rowing
Rowing ergometers are another cardio exercise that's more focused on the upper body. You strap your feet into the machine and pull a handle back by driving your legs into the machine and pulling the handle with your arms and torso.
If you have a mild injury this is one of the best forms of cardio because you can still use your lower body but there's less impact than even walking. It's an intense form of cardio because you're combining upper and lower body muscles to power you through every rep.