A Whopper with cheese is one of the least healthy items on Burger King's menu. However, with a few changes, you can occasionally include a Whopper with cheese into your diet without much consequence.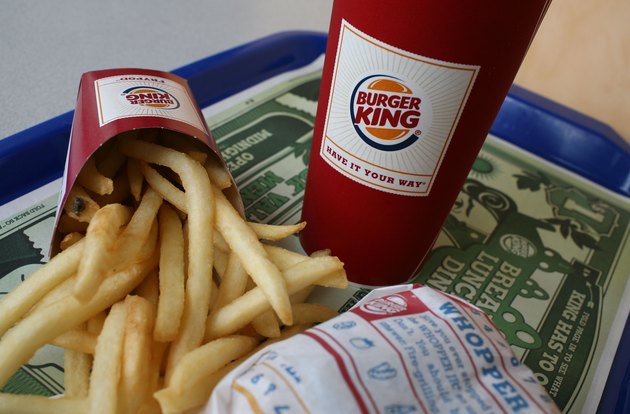 Calories
A standard Whopper with cheese from Burger King has 760 calories. Most of these calories come from the burger's fat content, according to the company's website.
Nutrition
A Whopper with cheese contains 47 g fat, 16 g saturated fat, 1 g trans fat, 100 mg cholesterol, 1,410 mg sodium, 3 g fiber, 11 g sugar and 33 g protein, according to Burger King.
Health Effects
The National Institute of Health says eating too much saturated fat is a major risk for heart disease -- and a Whopper with cheese has 75 percent of the recommended daily amount of saturated fat. Also, frequently eating high-fat fast food has been linked to the obesity epidemic among children and adults, according to MedlinePlus and MSNBC.
Tips
You should limit your consumption of Whopper burgers due to their high fat, saturated fat, cholesterol and sodium content. When you do choose to enjoy a Whopper, try having it without cheese and mayonnaise. Selecting the Whopper Jr. with cheese instead of the standard Whopper will save you almost 400 calories and half the amount of fat and saturated fat, according to Burger King.