A Big Mac with fries and a drink from McDonald's is OK on occasion. But if you eat this high-calorie meal often, it may sabotage your waistline. Knowing how many calories you're consuming in your Big Mac meal may give you a better perspective on exactly how much this one meal costs you.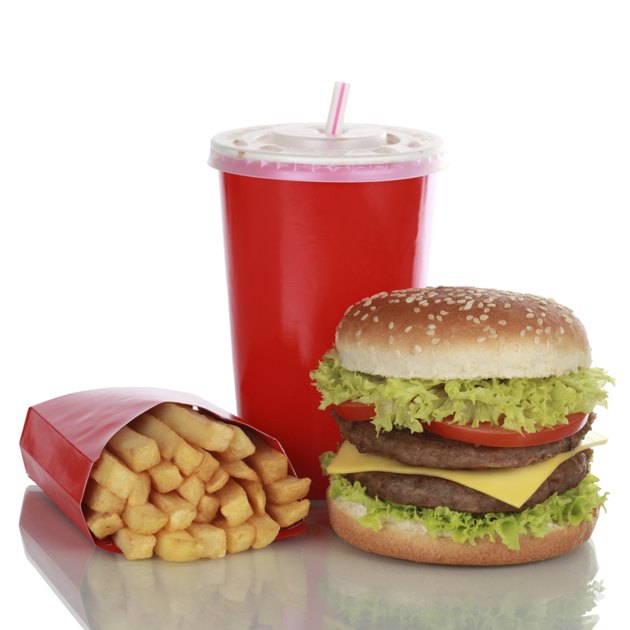 Calories in a Big Mac
Made up of two hamburger patties, the Big Mac is no small burger. One serving has 540 calories, 25 grams of protein, 28 grams of fat, 46 grams of carbs and 970 milligrams of sodium. If you eat 2,000 calories a day, the sandwich alone meets more than one-quarter of your daily calorie needs.
While this burger is not low in calories, you might be surprised that it's not the highest-calorie sandwich on the McDonald's menu. The Bacon Clubhouse Burger, both beef and chicken, have 740 and 610 calories, respectively. The Premium Crispy Chicken wrap sandwiches, one with ranch and the other with bacon, are also higher in calories than the Big Mac, with 610 and 640 calories per sandwich. The Double Pounder with Cheese with 780 calories, Quarter Pounder Deluxe with 600 calories and the large Buttermilk Crispy Chicken Sandwich with 580 calories are also higher in calories.
Calories in Big Mac, Fries and a Drink
Eating a Big Mac by itself may not be too bad if you're counting calories, but adding fries and a shake may push you toward eating a day's worth of calories in one meal. The calories in McDonald's french fries range from 230 to 510, depending on size, with 2 to 6 grams of protein, 11 to 24 grams of fat, 30 to 67 grams of carbs and 130 to 290 milligrams of sodium.
McDonald's offers a number of drink options, including a variety of sodas, sweet tea and, of course, milkshakes. Calories in soda and tea depend on size and flavor, ranging from as low as 140 calories for a small cola to as much as 280 calories in a large sweet tea. Milkshake calories range from 510 to 540.
If, for example, you're having a Big Mac with a medium order of fries and a medium cola, your total calorie intake is 1,080 calories, meeting more than half your daily calorie needs if you eat 2,000 calories a day. Replacing the cola with a chocolate milkshake increases the total calories to 1,420, which meets 70 percent of your daily calorie needs on a 2,000-calorie diet.
Tips for Trimming Big Mac Meal Calories
Regular consumption of fast food is linked to weight gain and obesity, according to a 2015 report from the U.S. Department of Agriculture. It's OK to eat fast-food meals like the Big Mac with sides and a drink, but you should limit these types of meals to once or twice a month, at most. Additionally, you can shave off a few calories by making tweaks to your meals. For example, trading in your regular drink for diet soda or a diet iced tea brings down the calories for your Big Mac meal with medium fries to 880 calories. You can reduce calories even more if you sub a side salad with the low-fat balsamic vinaigrette for the fries, which creates a 590-calorie meal.
Healthier Options at McDonald's
If your food options are limited and you find yourself visiting McDonald's often for meals, you may want to change up your food choices and include healthier, lower-calorie options. Instead of the Big Mac, order a regular hamburger with a side salad with low-fat vinaigrette and water or diet iced tea for a 300-calorie meal. Or, try a grilled chicken salad such as the Premium Bacon Ranch or Premium Southwest salad, which have 310 and 330 calories, respectively. Be sure to use the low-fat Italian dressing, with 50 calories per packet, or the low-fat balsamic vinaigrette, with 35 calories per packet, to save even more calories. And drink water or diet beverages with these meals, too.