In the United States, fast food is a contributor to dietary habits, with 11.3 percent of the total calories in the typical American diet coming from fast food. Common fast food choices include pizza, burgers, fried potatoes and soft drinks. Many people who eat fast food tend to have higher fat intakes and poorer diets. Fast food does have some benefits, however, and you can consume fast food occasionally as part of a healthy diet, particularly if you use a calorie counter to keep track of your intake.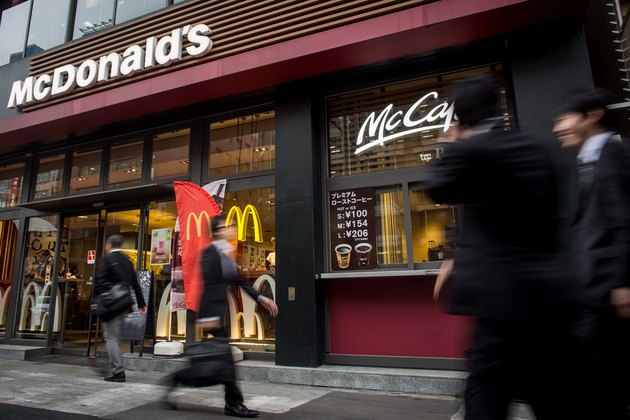 Fast Foods Are Convenient
It seems like you can find fast food restaurants on nearly every street corner, and going to a drive-through or using home-delivery makes going to a fast food restaurant appealing. Fast food restaurants enable you to consume ready-to-eat, fresh, portion-controlled foods. If you want to eat healthy food but don't want to prepare it at home, you can order something healthy from a fast food restaurant. This could include oatmeal made with milk or a salad that has a variety of greens, vegetables, nuts and grilled chicken. Although fast food is convenient, be wary of purchasing unhealthy foods, such as fried chicken and pizza, simply because they are available and are appealing.
Fast Food Restaurants Offer Various Choices
A wide assortment of fast food styles lets you experience foods from various cultures so that you don't need to spend exorbitant amounts of money at full-service restaurants. Fast food restaurants that offer burgers, chicken and sandwiches are plentiful, but fast-food restaurants that offer Chinese, Italian, Mexican and Middle Eastern dishes also are plentiful. Even though many of these international offerings may be fairly healthy, they also may be high in calories and unhealthy nutrients.
Fast Food Restaurants Cost Less
The low cost of a fast food meal compared to a meal at a sit-down restaurant can help you stay within your budget. Home cooking, though, enables you to serve healthier, less expensive meals. If you want to eat healthy foods on a budget, purchase foods such as tuna, peanut butter, dried beans, brown rice, whole pasta and seasonal produce. These nutritious items are relatively inexpensive.
Fast Food Restaurants Have Calorie Counts
The Patient Protection and Affordable Care Act of 2010 requires chain restaurants to post calorie counts on menu boards. You can use this information to make low-calorie decisions when you eat fast food. Restaurants that have fewer than 20 locations, such as small, family-owned establishments, do not need to provide nutritional information. When you don't have access to calorie counts, you may be more likely to eat more calories than you had intended.