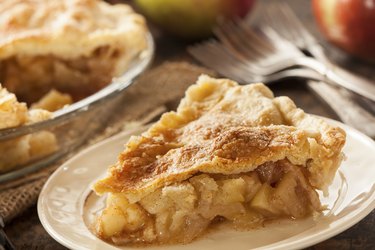 Particularly during the winter months, apple pie is an all-American delicacy. The warm pie is often served with a scoop of vanilla ice cream or topped with whipped cream.
As a sweet, high-calorie dessert, portion control is key when eating apple pie.
One slice of apple pie can contain between 300 and 400 calories, depending on the size of the pie. For example, a slice of Dutch apple pie (which has a crumb topping) contains 380 calories while a slice of regular apple pie (with a top layer made from pie crust) has 339 calories, according to the USDA.
A standard serving size is 1/8 of a pie with a 9-inch diameter or 1/6 of an 8-inch pie. One slice of traditional apple pie (1/8 of a whole pie) contains the following:
‌​Calories‌​: 339
‌​Total fat​‌: 10 g
​‌Cholesterol‌​: 0 mg
​‌Sodium‌​: 159.9 mg
‌​Total carbs​‌: 57 g

‌​Dietary fiber​‌: 1 g
​‌Sugar‌​: 29 g

​‌Protein‌​: 4 g
A total of 68 percent of the calories come from carbohydrates, 27 percent from fat and 5 percent from protein. You'll also get nearly 30 grams of sugar in a single piece.
Why Is Apple Pie So High in Calories?
Most of the calories in apple pie come from sugar, which includes natural sugar from the apples as well as added sugar that the recipe calls for.
Apple pie is traditionally made with a lot of sugar (whether that's in the form of white sugar, brown sugar, high-fructose corn syrup, honey, maple syrup or another source) as well as butter, vegetable shortening or margarine, which is very caloric.
Apple pie filling is mostly made up of sugar while the crust contains most of the dietary fat in the pie.
Tip
If you're watching your calories, you can make apple pie at home with a few healthy substitutions. You can use less sugar than the recipe calls for, swap some of the sugar for stevia or another low-calorie sweetener and/or use whole-wheat flour instead of white.
Try this dietitian-approved recipe for a single-serve apple pie.