Don't judge a food by name alone. While the digestive biscuit originated in the early 19th century as a food to aid in digestion, according to the website The Foods of England, the modern-day version may not be as effective. The digestive biscuit is a source of whole grains and fiber, but you may be better off eating it as a treat rather than as a regular part of your diet.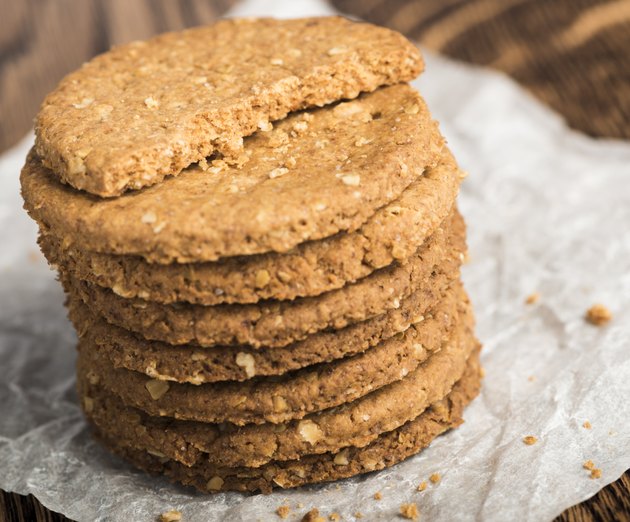 Nutritional Profile
Two biscuits contain 140 calories, 6 grams of fat, 19 grams of carbohydrate, 1 gram of fiber, 5 grams of sugar, 2 grams of protein and 160 milligrams of sodium. Digestive biscuits are not a significant source of any vitamin or mineral. The 2010 Dietary Guidelines for Americans recommends you limit your intake of foods with added fat and sugar, such as digestive biscuits, because they contribute calories and offer very little nutritional value.
Whole Grains
Although the ingredients vary depending on the brand of digestive biscuit you eat, some brands contain whole-wheat flour. People who eat more whole grains have an easier time managing their weight and may be at a lower risk of heart disease. Eating more whole grains may also lower your risk of developing diabetes. Ideally, whole-wheat flour should be listed as the first ingredient to make sure you're getting the full benefits.
Some Fiber
Digestive biscuits are not a significant source of fiber, but they may be able to push you toward meeting your needs. Most Americans don't get enough fiber in their diet, according to the Academy of Nutrition and Dietetics. You need 14 grams of fiber for every 1,000 calories you eat, or about 25 grams for women and 38 grams for men. Meeting your daily fiber needs not only alleviates constipation, but may also reduce your risk of chronic illness. Also, fiber aids in appetite control and is beneficial to those trying to lose or maintain a healthy weight.
Not Too Much Sodium
A serving of two digestive biscuits contains 160 milligrams of sodium. Although technically not a low-sodium food, it's not far off from the recommended 140 milligrams used to designate a food as low-sodium based on food labeling guidelines. Most Americans get too much sodium in their diet, according to the 2010 Dietary Guidelines. High intakes of sodium is linked to high blood pressure, which increases risk of heart disease, congestive heart failure and kidney disease. A healthy diet should limit sodium intake to less than 2,300 milligrams a day, or if you're over the age of 50, have high blood pressure or are of African descent, limited to 1,500 milligrams a day. Including lower-sodium foods like the digestive biscuits may help you stay within the daily sodium recommendations.