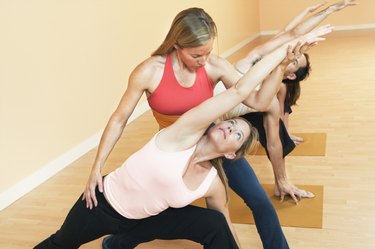 The Athletic Certification Training Commission or ACT is the only free fitness certification available as of 2010. ACT can be completed online at your own pace. ACT offers the option to upgrade to a paid certification. According to its own website, the difference between certifications is that the paid option comes with "goodies." The free certification is completely self-study. The paid option offers email support from instructors, study aids such as downloable flashcards and career guidance.
Step 1
Get a copy of the textbook. You can download the 300-page pdf textbook directly to your computer or you can order a printed version of the book. The pdf is free but ordering the book requires payment. The ACT's official website recommends printing out the pdf and bounding it yourself if you want to save money (see "Resources").
Step 2
Read the textbook as instructed during the classes and complete the practice questions included there. Topics covered include anatomy, program design, assessment and measuring the progress of your clients and legal topics. You will also learn how to set up and handle a business.
Step 3
Take the exam once you feel you're ready. The exam can be taken anytime. Simply go to your account and click on the appropriate link. This will direct you to the exam, which consists of 100 multiple-choice questions. The exam is free, but if you don't pass on the first try, you will have to pay a small fee to retake it.
Step 4
Download and print your personalized certificate. The certificate is free. If you pay the fee to upgrade, however, you will also receive a recommendation letter, career counseling and other perks.