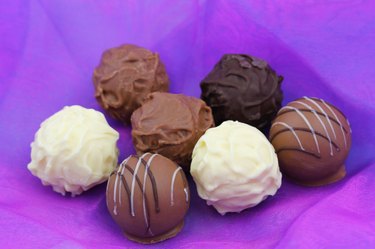 Lindt Lindor Truffles are chocolate candies filled with a creamy chocolate mousse. Rich in flavor, Lindt truffles are also rich in calories and should be enjoyed in moderation by those looking to shed pounds or maintain a healthy weight.
Calories
According to the Daily Plate, Lindt chocolate truffles contain 73 calories each. A regular-size package of Lindt truffles has 12 pieces of candy for a total of 876 calories per package.
Carbohydrates and Sugar
One Lindt truffle has about 5 g of carbohydrates and no dietary fiber. There are 4 g of sugar per truffle. While this may seem like a lot, the Daily Plate reports that Hershey's Kisses, which are of similar size to a Lindt truffle, contain about 25 g of sugar per piece.
Other Factors
Lindt Truffles contain 6 g of fat per piece. There are 2 mg of cholesterol, 3 mg of sodium and 1 g of protein per truffle.
White Chocolate Truffles
Lindt's white chocolate truffles contain 77 calories per piece. They also contain 6 g of fat, 10 mg of sodium, 2 mg of cholesterol and 5 g of sugar per piece. MayoClinic.com recommends consuming no more than 2,300 mg of sodium per day for optimum health.