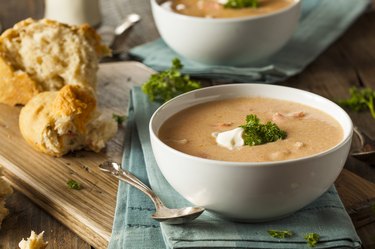 You can make a delicious and easy tomato bisque simply by adding milk and butter to a can of tomato soup.
To lighten things up, you can omit the milk and butter and opt for vegetable or bone broth — the latter will add some skin- and joint-supporting collagen protein to your meal. You can also add basil for a bright, fresh flavor that'll make you forget you left the dairy out.
Find out all about the nutrition and calories in a cup of tomato basil soup or tomato bisque soup.
Tomato Bisque Soup Calories and Nutrition Info
Tomato bisque soup is a healthy food choice that delivers the natural benefits of tomatoes. Processed tomatoes in canned soup are even more potent because the cooking concentrates the levels of lycopene, a type of antioxidant, according to Consumer Reports.).
Total fat: 2.2 g
Sodium: 215 mg
Total carbohydrates: 23.7 g

Fiber: 3.9 g
Sugar: 18.2 g

Protein: 3.3 g
Most of the calories in tomato bisque soup come from carbs and then fat.
Tomato Basil Soup Calories and Nutrition Info
A cup of tomato basil soup goes well with a grilled cheese sandwich, making for a comforting meal. This side dish is rich in vitamin A and relatively low in calories. Versions made with chicken broth or low-fat milk are lower in calories than those made with heavy cream.
According to the USDA, there are 91 calories in a cup of tomato basil soup as well as:
Total fat: 5 g
Sodium: 799 mg
Total carbohydrates: 8 g
Protein: 2 g
Tomato basil soup calories mostly come from fat (if you're preparing it with butter or oil) and then carbs.