The health advantages of yogurts that contain live bacterial cultures are so impressive that many people choose to make these tangy foods part of their daily diet. Greek yogurt is especially nutritious, given its higher protein and lower complex carbohydrate content. Understanding the advantages and disadvantages of yogurt helps you make the healthiest choice for your meal plan.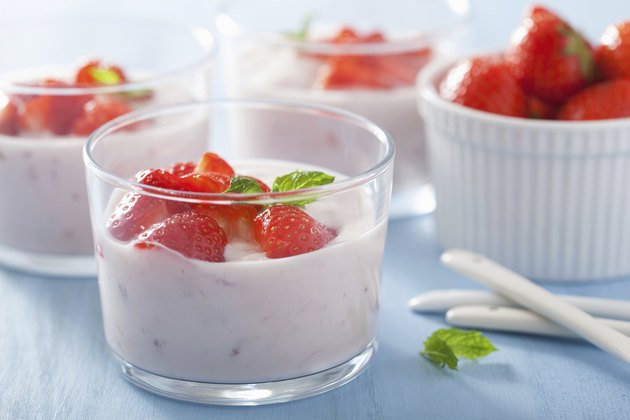 Nutrient Advantage
Eating an 8-ounce serving of low-fat, plain yogurt provides you with approximately 12 grams of protein, 16 grams of carbohydrates, 3.5 grams of fat and 143 calories. The same serving size also packs 415 milligrams of calcium, which is 42 percent of the daily values set by the U.S. Food and Drug Administration based on a 2,000-calorie-per-day diet, and 327 milligrams of phosphorus, which is 33 percent of the DV. Plain Greek yogurt is even more impressive with 23 grams of protein, 8 grams of carbs, 0.88 fat gram and 133 calories for the same serving size. Fortified yogurt can provide up to 118 international units of vitamin D, which is 30 percent of the DV set by the FDA.
Probiotic Advantage
Friendly bacteria live in and protect the intestine and vagina against disease-causing bacteria. Consuming foods that contain probiotics -- friendly bacteria -- can help maintain a healthy balance of bacteria in your intestines. An abstract published in "Therapeutic Advances in Gastroenterology" in September 2010 noted that probiotics might restore normal bacterial microflora and affect the functioning of the gastrointestinal tract by a variety of mechanisms. Eating yogurt is an excellent way to provide your intestines with beneficial active cultures, such as Lactobacillus acidophilus, which fights vaginal infections, helps prevent diarrhea, treats chronic constipation and improves lactose tolerance in people suffering from lactose intolerance.
Boosts Immune System Response
Regular consumption of foods containing active bacterial cultures increases your body's immune effects by strengthening the intestinal epithelial barrier and stimulating production of T lymphocytes, a type of white blood cell, and antibodies, according to Linus Pauling Institute. In fact, an abstract published in the "American Journal of Clinical Nutrition" in April 2000 noted that studies on the therapeutic and preventive effects of yogurt and lactic acid bacteria provide strong rationale for the hypothesis that increased yogurt consumption, especially among people who have compromised immune systems, such as the elderly, may enhance immune response, which increases resistance to immune-related diseases.
Fat and Sugar Downside
Whole milk and flavored yogurts can pose a disadvantage for people who are dieting or watching their blood-sugar intake. One 8-ounce container of plain whole-milk yogurt contains approximately 7 grams of total fat, which includes approximately 5 grams of saturated fat. An 8-ounce serving of plain low-fat yogurt contains roughly half the total fat content at approximately 3.5 grams -- with 2 grams of saturated fat -- while an 8-ounce serving of plain Greek yogurt has just 0.88 total fat gram. An 8-ounce portion of low-fat, fruit-flavored yogurt contains approximately 42 sugar grams, compared to approximately 16 grams in the unflavored, low-fat variety and approximately 7 grams in plain Greek yogurt.