The minimum calories per day needed to survive is a highly variable figure. It depends on your age, gender, activity level and even your genetics.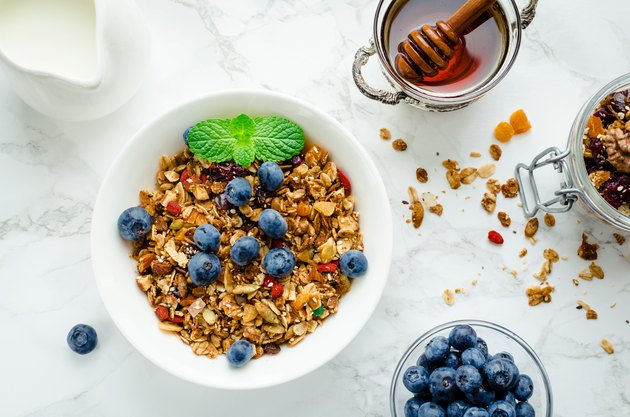 Tip
Restricting calories is something that should only be done under the supervision of your doctor. If you cut too many calories from your diet, you may not be getting enough nutrients. If that happens, any weight loss would probably not benefit your health, says Harvard Health Publishing.
Minimum Calories Per Day
According to the Dietary Guidelines for Americans, a 21-year-old sedentary male needs 2,400 calories to maintain weight. A sedentary 21-year-old female needs 2,000 calories per day to keep her weight the same. A safe weight loss plan allows for cutting 500 to 1,000 calories per day.
But health experts recommend that women consume at least 1,200 calories a day, and men consume at least 1,500 calories a day, says Harvard Health Publishing. There is no ideal minimum calories per day to lose weight or minimum calorie intake for a teenage girl, teen boy or adult. Instead, if you want to lose weight, take in at least 1,200 calories a day if you're female and 1,500 calories a day if you're male, and focus on a healthy weight-loss plan.
So what happens when you drastically cut your calories by 1,000 calories per day, the upper limit recommended for a safe weight-loss plan? According to a study reported in the April 2014 issue of the American Journal of Clinical Nutrition, your metabolism slows when you lose weight. So focus less on the minimum calories to lose weight and focus more on a weight loss plan that is healthy and in line with what your doctor recommends.
Your Slowing Metabolism
Harvard Health Publishing says that when your metabolism slows, you burn fewer calories. So by limiting your calorie intake, the body goes into protection mode by slowing your metabolism. While limiting calories may help you lose weight at first, your body will start to make it harder for you to lose weight if you continue to limit calories.
Your body may even respond to your lower calorie intake by not shedding any more weight, Harvard Health says. The solution to that is to increase your exercise as you cut calories. This will help you will boost your metabolism, which will help you burn more calories.
Once that weight is lost, however, your metabolism may have trouble returning to pre-weight loss levels. A study in the July 2012 issue of the Journal of Clinical Endocrinology and Metabolism showed that people who lost large amounts of weight by cutting calories and adding in vigorous exercise needed to keep up the vigorous exercise or risk regaining the weight they lost.
Study participants who lost one-third of their body weight and increased their exercise had slower metabolisms after they lost the weight. Their slowdown in metabolic rate was out of proportion to the weight they lost, the authors said.
Restricting Calories in Eating