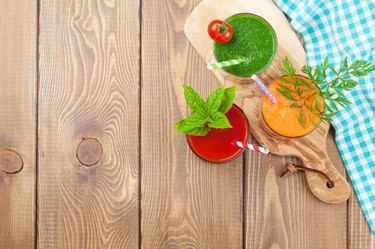 Achieving your goal weight may be as easy as eating more fruits and vegetables, according to the official V8 website. By drinking V8 juice and eating fruits and vegetables throughout the day, you may feel fuller and be less likely to binge on junk food. Consult your doctor before trying the V8 Healthy Weight plan, especially if you have allergies or a health condition.
Significance
The V8 Healthy Weight plan was created by V8 in order to help dieters lose weight and maintain a healthier eating plan. The diet is based on the statistic that seven out of 10 adults do not get enough fruit or vegetables in their diet. According to the V8 official website, adults should eat five servings of fruit and vegetables per day, or about 2 1/2 cups worth. According to Diets In Review.com in the article "V8 Diet," the diet encourages individuals to eat approximately 1,500 calories per day.
Sample Breakfast
For breakfast on day one, the V8 official website suggests eating 8 oz. of V8 100 percent vegetable juice, which provides approximately two servings of vegetables. Cook 1 cup plain oatmeal and stir in 2 tbsp. raisins and 1 tsp. brown sugar. Add 1/4 cup flavored, low-fat yogurt to the top of the oatmeal before eating. For breakfast on day two of the diet, switch the oatmeal for 1 cup whole grain cereal, a small banana and a cup of skim milk.
Sample Lunch
For lunch on day four, the V8 website suggests creating a homemade chicken Caesar salad. Combine 2 cups romaine lettuce, 2 oz. grilled chicken breast, 1/2 cup pasta, 2 tbsp Parmesan cheese, 2 tbsp. reduced-calorie Caesar salad dressing and an apple. For a snack before dinner, enjoy three graham crackers, recommends the V8 official website.
Sample Dinner
While following the V8 Healthy Weight Plan, prepare homemade veggie pasta for dinner. Cook 1 cup of whole wheat pasta and top it with 1/2 cup tomato sauce, 1/2 cup cooked vegetables like peppers, onions and mushrooms, and 1/3 cup shredded mozzarella cheese made with part-skim milk. As an after-dinner snack, enjoy 1/2 oz. almonds stirred in 1/2 cup low-fat cottage cheese.
Expert Insight
According to the Mayo Clinic in the article "Heart-Healthy Diet: 8 Steps to Reduce Heart Disease," eating more fruits and vegetables may help you lose weight because you will be less likely to eat high-fat foods like cheese and meat. Additionally, eating more fruits and vegetables are low in calories and may also help reduce your risk of cardiovascular disease.