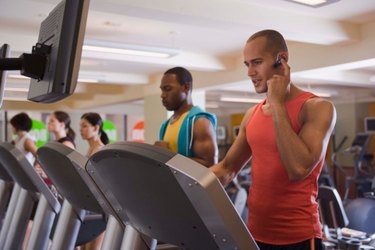 Nordic Track manufactured the Exp 1000 treadmill in 2000, but this model is no longer in production. Key features for this model include a cushioned walking platform, heart rate monitor hand grips, automatic speed and incline adjustment buttons and three preset workout programs. Replacement parts are likely not covered under warranty, but you can call Nordic Track for a full warranty explanation. You can troubleshoot and fix some of the problems you may experience with this model. Not all problems you experience, however, will require service, repair or part replacement.
Significance
Address problems with your Nordic Track Exp 1000 treadmill promptly or it might damage the treadmill beyond repair. Using a piece of exercise equipment when it's not operating properly may also pose a safety risk to the user.
Types of Problems
Power problems you may experience when using a Nordic Track Exp 1000 treadmill include the power not turning on, it turning off unexpectedly during use and console functions either not displaying correct information or no information. The treadmill's incline may not work or adjust too slowly or quickly, and the treadmill's walking belt may slip off-center. It may also move too slowly or be too loose or too tight.
Preventing
Plug the treadmill into a grounded 120-volt outlet; preferably use a surge suppressor to prevent damage from electrical surges and plug the suppressor into the outlet. Make adjustments to the walking belt and reed switch as necessary. Nordic Track provides an allen wrench to tighten and loosen bolts so you can move the belt if it becomes off-center or needs to be tightened or loosened. The reed switch is located within the motor and is adjusted by realigning it. Recalibrate the incline as necessary when it doesn't adjust properly. Tightening loose bolts before using will prevent treadmill damage and keep the machine stable to protect the user.
For Additional Help
Contact a Nordic Track customer service representative by calling 888-825-2588. Find the serial number, located on the treadmill's frame, before calling for faster service.
Warnings
Do not use or store the treadmill outdoors or in moist environments. Do not allow persons weighing over 250 lbs. to use the treadmill. If you notice any damage to the treadmill do not use it before having it serviced. Unplug the treadmill after every use and before performing any adjustments.