Pure 100 percent cranberry juice that is unsweetened may provide health benefits. It contains vitamins and minerals the body needs to function properly, and it may help in the prevention of gum disease. It has also been used in the prevention of urinary tract, bladder and kidney infections, because it contains substances that inhibit bacteria from sticking to surfaces in the body. Cranberries also contain fiber and antioxidants that may help in the prevention of heart disease and cancer. However, there are precautions to consider before increasing your cranberry juice consumption, because too much can lead to health problems. For safety, check with a doctor or registered dietitian before making any changes to your diet.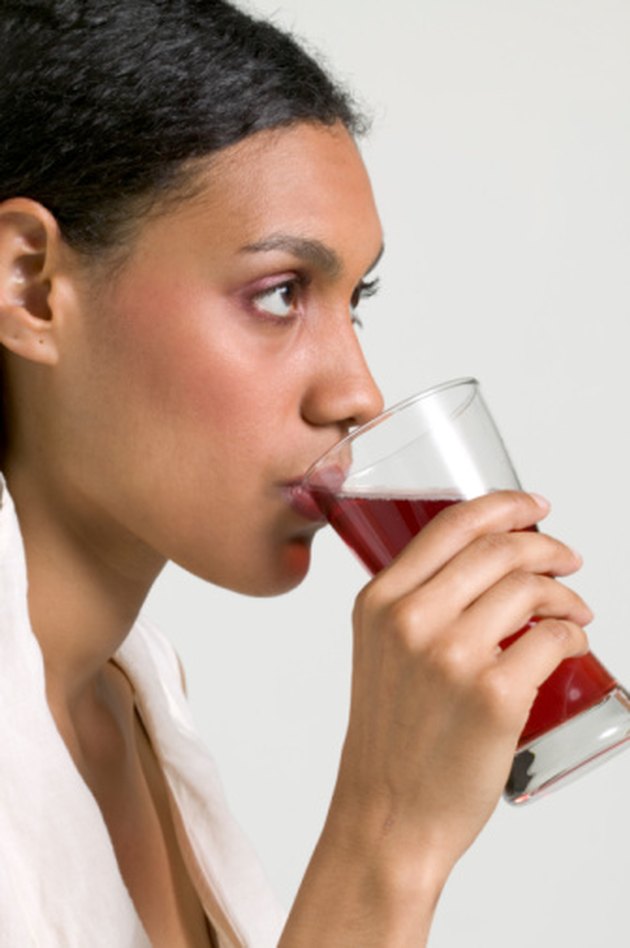 Upset Stomach
Cranberry juice has not been fully tested in regard to its health benefits, and there are no established amounts that have been proven to be effective. In low doses, it appears to be safe. However, in some individuals, high doses of cranberry juice may cause an upset stomach and diarrhea, says the National Center for Complementary and Alternative Medicine.
Kidney Stones
According to the Medline Plus website, drinking more than 1 liter of cranberry juice per day for a long period of time might increase your chance of getting kidney stones. Cranberries contain a high amount of a chemical called oxalate, which when mixed with calcium can cause kidney stones. For this reason, if you have a history of, or are at a high risk for kidney stones, you should not consume cranberry juice or take supplements unless you are under a doctor's supervision.
High Blood Sugar Levels
If you have diabetes, or a tendency to have high blood sugar levels, you should only consume unsweetened cranberry juice or juice that contains artificial sweeteners. Since each case of diabetes is different, it is important to test blood glucose levels before and after drinking cranberry juice to determine its effects.
Bleeding and Bruising
While the link is not well understood, it appears that cranberry juice and cranberry supplements may interfere with certain heart medications. The National Center for Complementary and Alternative Medicine recommends speaking with a health-care provider before ingesting cranberry if you are taking blood-thinning medications such as warfarin or aspirin. The combination of the medication and cranberry juice could lead to bleeding, which can be life threatening.