A growing number of people are switching to plant-based diets. Approximately 6 percent of Americans claimed to be vegan in 2017, which was 5 percent more compared to 2014. Vegetarian and vegan diets have been linked to lower rates of coronary heart disease, diabetes, obesity and premature death. Switching to a vegetarian weight loss diet isn't easy, though; be prepared to make major lifestyle changes and reinvent your meals.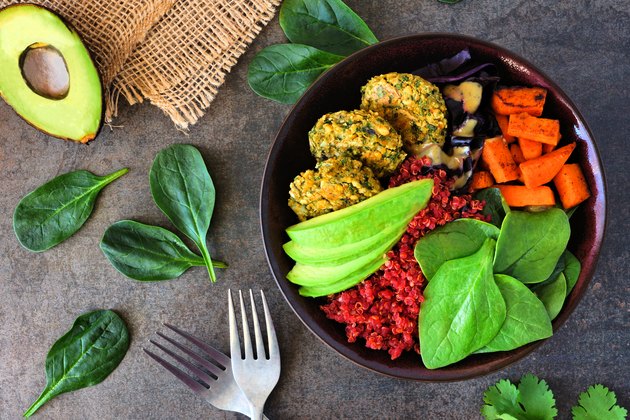 Tip
The key to losing weight fast on a vegetarian diet is to eat clean. Fries, potato chips, ice cream and tofu deli meats are all vegetarian friendly, but this doesn't mean they're healthy and nutritious. Your daily calories should come from whole and minimally processed foods.
Vegetarianism and Weight Loss
Many dieters assume that giving up meat and fish will automatically lead to weight loss. Nothing could be further from the truth. Just think about it. Fries, potato chips, milk chocolate and ice cream are all vegetarian friendly, yet they're loaded with sugar and calories.
Being a vegetarian won't help you get leaner and enjoy better health unless you actually eat clean. Whole and minimally processed foods should come first on your list. Calories matter too. When consumed in excess, even the healthiest foods can cause you to pack on pounds.
Olive oil, for example, has 119 calories per tablespoon. If you add 2 tablespoons to your salad at lunch, 1 tablespoon to your favorite homemade dessert and another one to whatever you eat for dinner, that's an extra 476 calories. The same goes for pistachios, walnuts, peanuts, dark chocolate and other nutrient-dense foods. If you eat too much, you'll end up gaining weight.
What Does Science Say?
Vegan and vegetarian diets have long been studied for their potential health benefits. According to the European Association for the Study of Obesity, even moderate adherence to these eating patterns could prevent weight gain and obesity in middle-aged adults and seniors.
A 2017 review in the Journal of Geriatric Cardiology states that plant-based diets may help prevent and treat these conditions. Meat consumption, on the other hand, has been linked to weight gain in the long run.
Vegan Diets Are Even Better
Another study, which appeared in the journal Nutrition in 2015, indicates that vegans tend to have a lower body mass index than meat eaters, semi-vegetarians and pesco-vegetarians (who consume fish). A vegetarian or vegan weight loss plan not only facilitates weight loss but can also improve your health and well-being.
A 2014 review published in the journal Nutrients has linked vegetarian diets to a 23 percent lower risk of stomach cancer, a 35 percent lower risk of prostate cancer and an 8 percent lower risk of all cancers. Furthermore, this eating pattern may reduce diabetes risk by 25 percent to 49 percent and cut the risk of metabolic syndrome by half compared to a traditional diet.
Your Vegetarian Weight Loss Plan
Now that you know how this lifestyle benefits your health, consider switching to a vegetarian weight loss plan. This transition won't happen overnight, so take your time to discover new flavors and tweak your eating habits. Start by eating more fruits and vegetables while gradually reducing your meat intake. If you're ready to go all the way, come up with a vegan meal plan and grocery list.
However, filling up on plant-based foods isn't enough to lose weight. You also need to clean up your diet and ditch the junk. Not all vegetarian foods are healthy or nutritious. Eliminate or avoid the following products:
Tofu deli meats
Frozen or canned fake meats
Processed cheese
Vegetarian hot dogs
Potato chips
Fried vegetable chips
French fries
White pasta
White rice
Breakfast cereals
Pastries
Store-bought cookies and desserts
White bread
Commercial smoothies
Frozen vegan meals
Granola bars
Flavored soy yogurt
Processed sauces and dressings
White pasta, for example, is heavily processed and has little or no nutritional value. Plus, it's high in simple carbs and low in fiber, causing blood sugar spikes. Instead, opt for whole-wheat pasta, which boasts nearly 4 grams of fiber per cup. Frozen fake meats are loaded with refined vegetable oils and preservatives, while tofu deli meats are typically high in sodium.
Make Smart Food Swaps
Switching to a vegetarian diet is as easy or as difficult as you make it. The key to a smooth transition is to be creative in the kitchen. With some planning, you can lose weight and still enjoy hearty, delicious meals. If your goal is to slim down fast, ditch the sugar, white flour and trans fats in addition to meat. Use plant-based substitutes instead.
Portobello mushrooms, for example, can replace steak and burgers and have only 42 calories per cup. Lentils and beans are excellent alternatives to ground meat. A chickpea burger with lettuce, tomatoes and Dijon mustard will fill you up instantly. Falafel is a good substitute for chicken and can be easily prepared from ground chickpeas and spices.
Cut Down on Simple Carbs
To cut calories and carbs, swap breakfast cereals for whole grains or homemade granola. According to a 2017 review published in the Journal of Chiropractic Medicine, unprocessed grains may protect against diabetes, heart disease and cancer while reducing body fat and waist circumference.
If you're craving sweets, eat a few pieces of extra dark chocolate or make your own cookies, pancakes or waffles using stevia instead of sugar. Replace white flour with konjac flour, almond flour, coconut flour or whole-grain flour. Steer clear of any foods containing added sugars, such as fructose, dextrose, glucose and table sugar.
Mix It Up
A vegetarian weight loss diet is anything but boring. Try new foods and spices, reinvent your favorite recipes and try new dishes. Hummus, for instance, has fewer calories and more protein than cheese spreads. Sure, you can eat cheese on a vegetarian diet, but hummus is a lot more nutritious.
The whole point is to keep your diet varied. This way, you'll prevent nutrient deficiencies and find it easier to eat clean. Stick to simple meals rather than spending hours in the kitchen. Salads, raw soups, egg dishes, vegetarian meatballs and stews are all an excellent choice. As you discover new flavors and ingredients, diversify your menu and try new things.