The South Beach Diet is a low-calorie diet plan designed for relatively rapid weight loss. It promotes the consumption of complex carbohydrates, lean meats and healthy fats. It is broken up into three phases. Phase one is very restrictive and nearly carbohydrate-free. A phase one breakfast should consist of a serving of protein, at least one serving of vegetables or tomato juice and a calorie-free beverage, such as coffee or tea.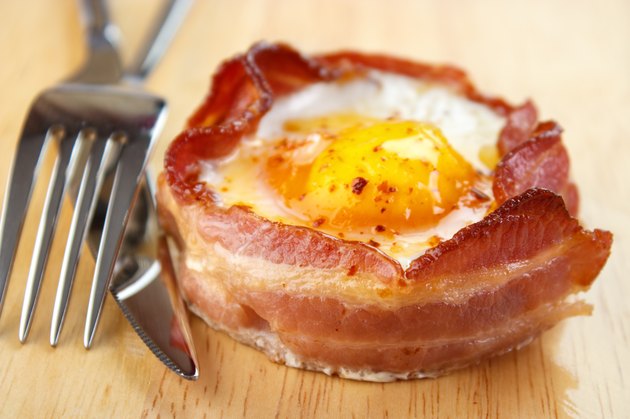 Eggs and Bacon
Phase one of the South Beach Diet is low-carbohydrate so sugary cereals, bagels and pancakes are not allowed. Since breakfasts should include a protein source, eggs are a healthy and appropriate pick. In addition, you can enjoy them prepared in a variety of ways. Serve them fried, scrambled or poached with a vegetable juice and tea or coffee. An omelet made with low-fat cheese and vegetables and a low-calorie beverage is another option. Or scramble up eggs, black beans, cubed tofu and vegetables; serve with salsa. Try a vegetable-rich frittata or crustless quiche served with a side of lean Canadian bacon, turkey bacon or a soy-based sausage patty.
Yogurt And Nuts
Yogurt is a protein-rich dairy product also appropriate as a breakfast option for phase one of the South Beach Diet. Just make sure the yogurt is plain or a low-calorie fruit flavor made with a non-nutrative sweetener in place of sugar. One option is to top a container of Dannon Light 'n' Fit fruited yogurt with 15 each dry-roasted chopped walnuts, almonds, pecans or cashews. If you don't like yogurt substitute 1 percent fat or non-fat cottage cheese instead. Pair it with lettuce wrapped around a slice or two of lean deli meat. Round out this breakfast with coffee; with or without low-calorie sweetener and/or fat-free half and half.
Cheese And Legumes
There are no rules stating that you must eat traditional breakfast foods for breakfast. You need to be creative during phase one of the South Beach Diet to avoid boredom. Try pairing fresh mozzarella cheese with sliced tomato and basil leaves. Serve over a bed of fresh spinach leaves and top with high-quality balsamic vinegar and olive oil. Make your own hummus; combine a half can of chickpeas with olive oil and lemon juice in a food processor. Process until smooth and season with salt and pepper to taste. Use as a dip for allowed vegetables such as zucchini, yellow squash, snap peas and celery. Serve either breakfast choice with herbal tea.