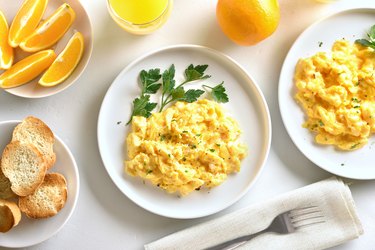 During the most restrictive part of the South Beach Diet, phase one, breakfast doesn't need to be difficult. You can either find South Beach breakfast recipes online or use the company's prepared meals, which can be shipped to your door.
How It All Started
Starting a new diet can be intimidating. Chances are, you'll have to give up some of the foods you love to meet the guidelines of whatever plan you're following. While some fad diets are ultra-restrictive in their approach, the South Beach Diet is quite flexible.
Dr. Arthur Agatston is the creator of the South Beach Diet. His goal was to design a way of eating that could help fight heart disease and lead to a healthier lifestyle, according to the South Beach Diet website. The diet was created in 2005 and amended in 2020 with a nod to the keto diet in Dr. Agatston's book The New Keto-Friendly South Beach Diet.
The first phase of the original diet lasts 14 days, but the keto-friendly version extends that to six months. The longer introduction phase was designed to allow the body to become keto-adapted. The ketogenic diet is a very low-carbohydrate, high-fat and moderate-protein eating plan that forces the body to use fat as fuel instead of carbs, explains Harvard Health Publishing.
Do Low-Carb Diets Work?
If you're trying to decide which diet to follow, it's important to know that a June 2018 study published in the European Journal of Nutrition showed that the most important aspect of a weight-loss plan is reduced calorie intake.
Researchers explain that low-carb, high-fat diets aren't necessarily better than other approaches to weight loss. As long as calories are reduced, body weight and health will improve. They also state that it's difficult to stick to a ketogenic diet, so a more moderate carbohydrate intake is ideal.
The goal of the initial 14-day period of the original South Beach Diet is to decrease insulin resistance in the body, according to the diet handbook. This is accomplished by cutting out sugar and refined carbohydrates.
An April 2017 study published in Clinical Nutrition explains that insulin resistance occurs when blood sugar levels fluctuate frequently. As the scientists note, reducing your carbohydrate intake may help prevent insulin resistance. This requires the consumption of low-glycemic index (GI), high-fiber foods.
Foods Allowed During Phase 1
In addition to refined carbs, you should cut out include fatty meats like beef, pork and chicken wings. Starchy carbohydrates like bread, cereal oatmeal and pasta are also prohibited. During this period, you'll give up alcohol and sweets.
Even though it sounds like you're giving up a lot, there are many foods you can still enjoy. The goal is to get rid of sugar and alcohol cravings while bolstering your diet with lean protein, healthy fats and minimally processed carbs.
When it comes to meat, you have plenty of options:
Flank steak, 93 percent lean ground beef, London broil, sirloin steak
Skinless turkey breast, ground turkey breast, turkey bacon, turkey sausage
Fish, sashimi, shellfish, canned fish
Boiled ham, Canadian bacon, pork tenderloin
Center cut lamb, lamb chop, lamb loin
Deli meats such as chicken breast, turkey breast, ham and roast beef
Most types of cheese are allowed on the diet. Greek yogurt, milk, buttermilk, kefir and soy milk are also included. You can have eggs and egg whites as well. Most nuts, seeds and vegetable oils are allowed during phase one.
For vegetables, you have plenty of options: artichokes, arugula, tomatoes, shallots and zucchini are just some examples of the available veggies. During this phase, the bulk of your carbs will come from vegetables.
South Beach Breakfast Recipes
Feeling overwhelmed by the limited options for your South Beach Diet phase one breakfast? You can order your meals from the company's website. One option for breakfast is a chocolate shake. This shake, for example, has 200 calories, 13 grams of net carbs, 11 grams of protein and 10 grams of fat.
Shakes are a fast option if you're on the go in the morning. If you typically skip breakfast, this is probably the most convenient option. You can create a shake of your own at home, using the ingredients allowed during phase one
Start with a cup of whole or soy milk. Add two tablespoons of peanut or almond butter for healthy fat and a little protein. Add half a scoop of chocolate protein powder and blend. With this simple recipe, you'll get protein, carbs and good fats for breakfast.
If you have more time and are willing to cook, the South Beach website sells a scramble that you can quickly heat up. All you need to do is add eggs. The scramble includes kale, onion, cheddar cheese, mushrooms, tomatoes, spices and garlic. When you cook it at home, crack two eggs into the mixture, stir to scramble and microwave to cook.
You can re-create this recipe easily at home. Chop the vegetables and cook until softened, then add the eggs and scramble. Total nutrition for this meal is 70 calories, 2 grams of carbs, 5 grams of protein and 4 grams of fat.
Perhaps eggs aren't your thing, but you'd like something more solid and filling in the morning than a protein shake. While most carbs are off the menu, you can have a Tropical Coconut Almond bar, which is one of the popular South Beach breakfast products. The bar contains 10 grams of net carbs, 210 calories, 8 grams of protein and 15 grams of fat.
You can make your favorite South Beach breakfast recipes at home using the available foods in phase one. This LIVESTRONG.com recipe for Hemp Hearts and Coconut Bars calls for coconut, almond butter, hemp hearts, maple syrup and cinnamon, so it fits into this diet.
Exercise Recommendations During Phase 1
Exercise is an integral part of the South Beach Diet plan is exercise. Their handbook includes both a walking and stair-climbing interval training workout during phase. Interval training requires increasing the intensity of your workout for one minute, followed by a period of rest. The exercises recommended during this phase are aerobic and don't require lifting weights.
Working out will speed up your progress and help you lose more weight by burning more calories. The exercises included in the handbook are designed for beginners, but if you're already a regular gym-goer, you can continue with your workouts.
For example, if you prefer cycling over walking, then stick with that. Unfortunately, it's difficult to convert bike miles to walking steps, so it's hard to compare the work you're doing to the recommended guidelines. As the phases of the diet progress, the number and variety of exercises increases, making it easier to design your workout.