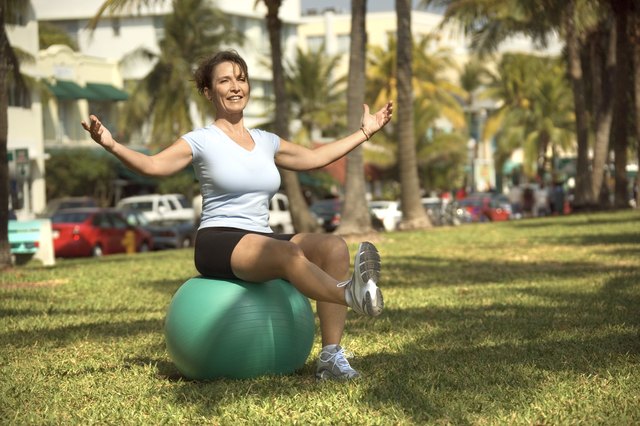 While hormones play a role in weight gain for women over 50, so does lifestyle. Women at this time in their lives tend to be less active and eat more calories than their body needs, says the Academy of Nutrition and Dietetics. To make a swing in the other direction, you need to find a plan that helps you control your calorie intake, is filled with nutrient-rich foods and suits your taste buds. Consult your doctor before making changes to your diet.
Weight-Loss Programs With More Protein
Getting a little more protein in your diet may be the way to go when you're trying to lose weight, according to a 2011 study published in The Journals of Gerontology. This study found that women over 50 lost more weight with a higher protein intake than with a higher carb intake eating the same number of calories. The researchers concluded that the improved weight loss was due to the preservation of lean body mass in the higher protein group. It's important to note, however, that the 2011 study increased protein intake using a whey protein supplement. Examples of weight-loss programs that are higher in protein include Weight Watchers, with 26 percent of calories from protein; the Atkins Diet, with 29 percent of calories from protein; and the South Beach Diet, with 30 percent of calories from protein.
Weight-Loss Programs That Emphasize Fruits and Vegetables
If you're not a fan of meat, you may do better on a weight-loss program that emphasizes fruits and vegetables. A 2012 study published in The Journal of the Academy of Nutrition and Dietetics found women over 50 were more successful at keeping the weight off when they followed diets that increased their intake of fruits and vegetables and ate less meat and cheese. Good weight-loss programs with an emphasis on fruits and vegetables that might help women over 50 lose weight include the DASH diet, the Mediterranean diet and the Mayo Clinic diet.
Heart-Healthy Diets for Females Over 50
In addition to weight, women over 50 are also at a greater risk of developing chronic illnesses -- including high blood pressure, diabetes and heart disease -- due to the changes in hormone levels. Weight-loss programs that focus on health issues may also work on helping you lose those unwanted plans. Diet programs that focus on heart-health include the Ornish Diet and the TLC Diet; programs that focus on blood sugar control include the carbohydrate-counting diet and using the Glycemic Index to help make dietary choices.
Getting Your Groove on
When you're trying to lose weight, diet is one piece of the puzzle; the other is exercise. The AND recommends women over 50 engage in 30 minutes of moderate-intensity exercise -- such as a brisk walk or bike ride -- most days of the week to help burn extra calories. Two sessions per week of weight-training can help build and preserve muscle, which is beneficial for weight loss maintenance. According to the National Weight Control Registry, 94 percent of the people who have lost weight and kept it off engage in some sort of regular physical activity. If your doctor gives the okay for exercising, consult a personal trainer for fitness ideas that are right for you.