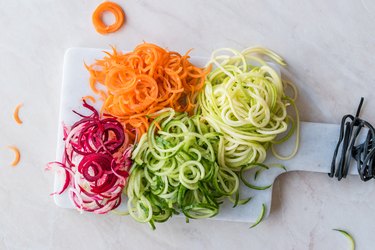 The South Beach Diet appeals to people looking for a low-carb diet and has several health benefits. It all starts at the grocery store, where you can use this South Beach food list as a cheat sheet for what to buy.
This dietary plan has three phases, with the first one being the strictest. Having the right supplies can make everything a lot easier.
South Beach Diet Basics
High-protein diet plans, including the South Beach Diet, can help you lose weight while finding a healthy new dietary plan that's easy to follow, according to a review from the November 2014 issue of Nutrition & Metabolism. This slimming plan isn't as extreme other low-carb diets, such as Atkins, making it more sustainable in the long run.
An essential aspect of the South Beach Diet is learning about the nutrient content of your food. You want to get to know more about dietary fats and the glycemic load of your carbs, as the Mayo Clinic points out — and this diet plan can help with that.
Exercise is essential too as it helps keep your metabolism up and may prevent weight loss plateaus. As for the food, focus on lean protein sources, high-fiber foods, nonstarchy vegetables, monounsaturated fats and good carbs.
While the end goal is to be on a diet plan that's sustainable for life, it doesn't start out that easy. The South Beach Diet has three phases. Phase 1 is the most restrictive, but it lasts just two weeks. It focuses on lean protein and healthy fats, with negligible amounts of carbs.
The second phase lasts until you reach your goal weight, and you eat some good carbs while still focusing on lean protein and healthy fats. The final stage lasts for the rest of your life. It still contains protein and fats, but now your diet can consist of 28 percent carbs, according to the Mayo Clinic.
South Beach Diet Phase 1
The purpose of the first phase is to kick your cravings. So you have to cut out most of your carbs during this period. In Phase 1, the South Beach Diet says you can lose between 8 and 13 pounds, notes the Mayo Clinic — and you should shed a majority of this weight from your midsection.
Phase 1 is a two-week period in which you cut out pretty much all carbs and fill up on protein. You're allowed to eat high-fiber vegetables and small portions of monounsaturated fats. Make sure you stay away from starchy vegetables.
Throughout each phase of the South Beach Diet, you'll eat three meals a day and three snacks. For breakfast, fill up veggies and protein plus 1 tablespoon of olive oil. Lunch and dinner have the same requirements — unlimited protein, 2 cups of vegetables at a minimum and a tablespoon of fat. When picking a snack, stick to vegetables and protein.
Be Aware of Food Restrictions
The most important rule is to avoid carbs — grains, fruits, beans, legumes, sugary drinks and alcohol. Limit artificially sweetened products, such as diet soda. In South Beach Diet Phase 1, limit your dairy intake and only eat nonstarchy vegetables that are high in fiber and low in carbs.
If you're using their meals, you can add up to three servings of protein a day, or four servings if you're a man according to the South Beach Diet Handbook. Women should stick to two servings of monounsaturated fats, and men should have three.
Nuts are high in calories, so limit those to one serving a day. You can have three extras a day, and they should be 35 calories or fewer with no more than 3 grams of carbs.
You can add free foods to anything at any time. These contain 10 calories or fewer and have up to 1 gram of carbohydrate. Examples include meat or vegetable broth, herbs, lemon juice, plain mustard, low-sodium soy sauce, spices and vinegar. You'll want to drink 64 ounces of water a day, and you can also enjoy coffee, unsweetened tea and seltzer water.
South Beach Meal Planning
The South Beach Diet can provide meals and snacks, meaning they'll do most of the planning for you. While you're learning about the nutritional content of food, having preplanned meals takes away some of the burden. And since making a dramatic change in your diet can be challenging enough on its own, it's an incredible convenience to be able to choose from premade meals.
Starting a new diet can be hard enough without the stress of planning all your meals. The South Beach Diet's mission is to provide a weight loss plan that's easy to start and maintain, so they offer snacks and meals for the first two phases.
You do, however, still need to supplement their meals with a few portions of food. This is where you get to put a little of your own flair into it. And if it turns out that you don't want to use their meals, for whatever reason, they outline the requirements so that you can meet them on your own.
Ideas for Breakfast
If you're using premade meals, then there's no limit on how much protein you can eat, but you'll need a half of a cup of vegetables as well. A good breakfast can make the rest of your day easier.
In fact, a small study conducted on 57 subjects and published in the August 2015 issue of the journal Obesity found that eating a high protein breakfast may decrease hunger later in the day. Eating enough when you wake up can help mitigate any cravings for the foods you're forgoing.
Canadian bacon is a classic breakfast choice that's on the approved South Beach food list. Add in a half-cup side salad of raw spinach and half of a tomato. If you plan to make the breakfast yourself, try two eggs, broccoli, a quarter onion and zucchini. Since there isn't a limit on your protein intake, feel free to add that Canadian bacon to your breakfast as well.
Lunch and Dinner
Lunch and dinner have the same requirements, and the premade meals are interchangeable. So in South Beach Diet Phase 1, you can use the same items for both. The protein isn't limited, and you'll need at least 2 cups of vegetables per meal.
Enjoy a spinach salad with an ounce of unsalted nuts, which have about 5 grams of protein per serving (1 ounce), and vinegar dressing. If you plan to make yourself lunch or dinner, chicken breast is a great, lean protein option that will provide you with 31 grams of protein per serving (around 3 ounces). It goes well with grilled mushrooms and asparagus and Parmesan cheese. You may add any seasonings from the free section.
While you may be looking to the South Beach Diet for weight loss, that doesn't mean that you shouldn't be eating snacks. Snacks are a required part of the meal plan. You should have protein and vegetables in your snacks.
Try 2 tablespoons of peanut butter with a few stalks of celery. You could also eat a small head of cauliflower covered in 3 tablespoons of Parmesan cheese and an ounce of ground beef.
South Beach Diet Shopping List
An example of a South Beach shopping list for Phase 1 might include:
Proteins

Chicken breasts

Ground beef

Sirloin steak

Canadian bacon

Fish

Turkey sausage

Eggs

Peanut butter

Unsalted nuts and seeds* Produce

Celery

Spinach

Asparagus

Avocado

Spinach

Tomatoes

Broccoli

Brussels sprouts

Zucchini

Onion

Cauliflower

Kale

Basil

Spinach

Sprouts

Spaghetti squash

Peppers

Radishes* Dressings and oils
Remember that the best way to go into a new diet is through preparation. But none of this has to be stressful. Start by filling your kitchen with the right foods for your new diet. That way, you'll have a smooth beginning.
What makes a person stick to a diet is different for everyone, but a study featured in the December 2014 issue of the journal Appetite found that food selection plays a major role. So looking over the foods you can eat in a new diet and seeing if they align with those you like helps ensure you'll stick to your weight loss plan.