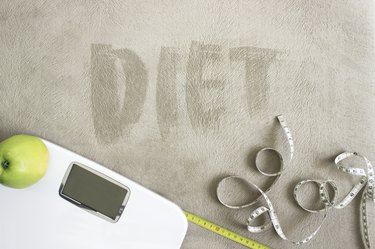 Phentermine is a prescription drug used to suppress appetite. Physicians usually prescribe phentermine to people with significant overweight or obesity, not to people who want to lose a few pounds. Phentermine can help weight loss by decreasing hunger or making you feel fuller longer because of its amphetamine-like qualities. Phentermine was approved by the Food and Drug Administration in 1959 for short-term obesity treatment. It is not recommended for long-term use because once you stop taking the drug, you are inclined to gain back the weight you lost. Herbal phentermine is available at many health food stores and claims to have the same benefits as prescription phentermine.
Herbal phentermine does not require a prescription. You can buy a bottle of pills for about $60 at many health food stores. According to the label on a bottle of herbal phentermine, "herbal phentermine is a non-prescription appetite suppressant that is 100% natural and safe. Scientifically designed to create the similar effects of the prescription phentermine version, herbal phentermine works to increase your metabolism, suppress your appetite, burn calories and increase energy." Herbal phentermine is not approved by the FDA.
Herbal phentermine claims to have the same weight loss effects on the human body as prescription phentermine, but there are no studies to back up this claim. Herbal phentermine contains green tea extract, L-carnitine, black pepper extract and Alpha Lipoic acid. Despite the difference in ingredients, herbal phentermine is designed to be a substitute for phentermine because it's available to everyone, rather than only those holding a prescription.
Herbal phentermine claims to provide the same results of weight loss as prescription phentermine but without the side effects. Side effects of phentermine include increased blood pressure, blurred vision, dizziness, dry mouth, nervousness, sleeplessness and constipation. L-carnitine is an amino acid derivative often used to treat patients with metabolism problems that result in low levels of L-carnitine. Drugs.com says. Green tea extract and black pepper extract are found in several fat-burning weight-loss products. It helps increase the body's metabolism and works with the body's thermogenics to increase metabolism. Alpha Lipoic acid is an antioxidant that's often used for the treatment of diabetes and HIV.
In December 2006, the FDA sent a letter to GSCM Ventures Inc., the manufacturers of herbal phentermine. The letter stated the product was misrepresented on the website because the claims established that the herbal phentermine "is a drug because it is intended for use in the cure or treatment of a disease." The FDA also said that because the herbal phentermine used the drug name "phentermine" in the product's name, it suggests the herbal version is a substitute for the prescription version and would also be used to treat a disease, obesity. The FDA went on to say any new "drugs" cannot be marketed in the United States without FDA approval, so GSCM Ventures Inc. was required to change the product's description or submit the product for FDA approval. The company chose to close its website. The FDA also faulted the company for not providing adequate directions for use on the product.
Use herbal phentermine only as directed on the package. Though herbal phentermine claims to not have any side effects, taking the pills in a way not recommended by the manufacturer could put you at risk for other side effects. Don't use herbal phentermine if you have allergies to any of the ingredients, if you have a heart condition or before first checking with your doctor.