Often referred to as Laetrile, B17 is considered by many alternative medicine enthusiasts to be an effective cancer treatment. Many support the idea that together with the correct dosage and a cancer-friendly diet, B17 can kill cancer cells while reinforcing your body's immune system to prevent future cancer from occurring. Purchasing Vitamin B17 is not without risks, however, because the product is not FDA-approved. Overseas purchasing is possible, but those who are not comfortable with the legalities and risks of this option may opt for Vitamin B17 from a natural food source: raw apricot seeds or kernels.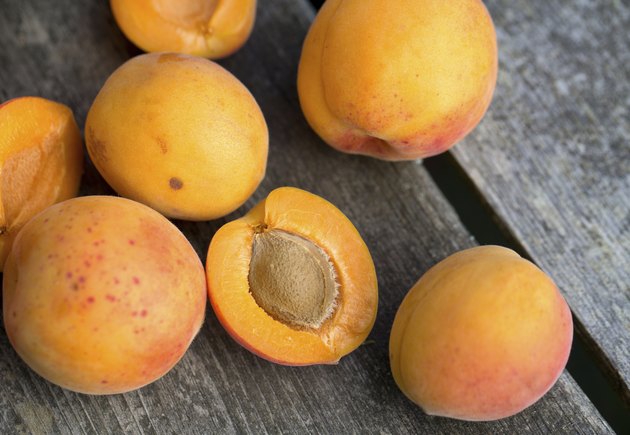 Step 1
Open the hard shell of an apricot shell with a nutcracker, pliers or a hammer.
Step 2
Look for something resembling an almond. This is the apricot seed or kernel, and it is naturally rich in Vitamin B17.
Step 3
Determine the correct dose for your health needs. According to the website useapricotseeds.com, if you are consuming seeds for general health benefits, you should eat anywhere from 10 to 12 seeds per day. If you have cancer, this total should be higher, at 50 per day, or about 35 grams. Because seeds can vary in size, you should aim for a total of seven grams of apricot seeds daily. Cancertutor.com states that if your cancer is in remission, you only need to take 16 kernels daily.
Step 4
Pace your seed consumption so you are taking only 3 grams, or five seeds per hour. If you are only taking 10 seeds, you can take one batch in the morning and one in the afternoon. This will help those who suffer from nausea when ingesting apricot seeds.
Step 5
Pour a glass of water and use it to wash down the kernels.
Things You'll Need
Hammers, pliers or a nutcracker

Apricot shells

Glass of water
Tip
Many prefer to avoid the hassle of breaking open dozens of apricot shells, and opt instead for the ease of dehydrated apricot kernels pre-packaged and ready for purchase. Cancertutor.com warns that if artificial heat is applied, it may alter the molecule containing B17 and make it less effective.
Warning
Use caution when ordering from a foreign pharmacy, as they are not always subject to strict federal guidelines with regard to packaging, manufacturing or dosing, as are medications and supplements manufactured for sale in the U.S. If you do order from abroad, be sure to take the tablets with a full glass of water, and do not drink or eat anything for one hour after taking the pills.