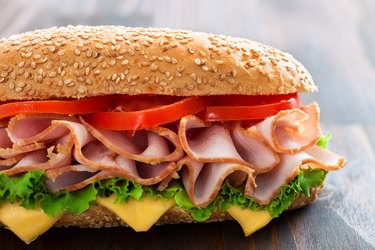 When you're out and about and you find yourself without a prepared lunch, you may be looking for the healthiest "fast food" item. While it can be really difficult to find something that fits within your nutritional needs, a Subway turkey sandwich might come close.
At only 250 calories per 6-inch sub, the sandwich is extremely reasonable calorie-wise. Of course, if you add higher calorie toppings and condiments, like mayonnaise and cheese, the calorie count can change pretty significantly.
Subway Turkey Sandwich Calories
The Subway turkey sandwich is part of their Fresh Fit program, which is designed to make it easier for you to choose healthier options when you're on the go. You'll get two servings of vegetables in each Fresh Fit sub and they're made with:
Whatever meat you choose (turkey, in this case)
A 6-inch sub of 9-grain wheat bread

Lettuce

Spinach

Tomatoes

Onions

Green peppers

Cucumbers

One Fresh Fit sauce, which includes honey mustard, red wine vinegar, vinaigrette or yellow mustard
If you order it straight off the menu without making any changes to it, the turkey sub calories clock in at 250; but that doesn't include extra toppings and condiments, like cheese and mayonnaise.
Add mayonnaise to your Subway turkey, and calories increase by an additional 200 calories. Cheese will increase the calorie count by 80 to 170, depending on which kind you choose. Subway's white American will add 80 calories, while their pepper jack adds 100 calories and smoked cheddar adds 170.
Subway 6-Inch Turkey Nutrition
Aside from calories, from the sub alone, you'll also be getting:
3 grams of total fat

0.5 grams of saturated fat

25 milligrams of cholesterol

650 milligrams of sodium

40 grams of carbohydrates

5 grams of fiber

6 grams of sugar

18 grams of protein

The Subway turkey sandwich also provides some calcium, iron, vitamin A and vitamin C. However, if you add some American cheese and mayonnaise, that changes things up a little bit. Per slice, the American cheese adds:
3.5 grams of total fat

2 grams of saturated fat

10 milligrams of cholesterol

200 milligrams of sodium

1 gram of carbohydrates

2 grams of protein

In addition, a serving of regular mayonnaise adds:
11 grams of total fat

2 grams of saturated fat

10 milligrams of cholesterol

65 milligrams of sodium
Keep in mind that these facts are for each serving of cheese and mayo that gets added to the standard sub. In most cases, if you ask for extras, you'll be getting two servings of each. If you want to save some calories and fat, you can request that your sandwich maker stick to one serving, or you can skip the mayonnaise and cheese altogether and load up on extra veggies, which aren't only lower in calories and fat, they're richer in vitamins, minerals and antioxidants, too, according to the United States Department of Agriculture.
However, Harvard Health Publishing points out that you don't have to worry about the fat in dairy products as much as you may think. Many experts now agree that dairy fat doesn't increase your risk for developing heart disease, as long as it's part of an otherwise healthy diet.
A study that was published in the Journal of Nutrition in January 2016 agrees, stating that full-fat dairy products (but not low-fat varieties) may actually decrease your risk of metabolic syndrome, which is characterized by high blood pressure, high cholesterol and high blood sugar.