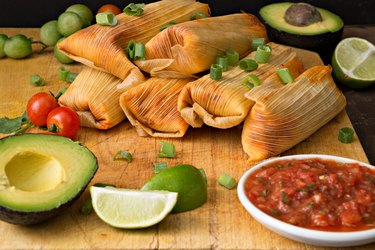 Making tamales is a winter holiday tradition in Mexico and in the southern United States. Friends and family often gather at a tamalada to share in the preparations. When it's time to eat up, it's good to know how many calories are in tamales.
Generally speaking, it's important to be mindful of your food choices. A balanced diet supports overall health and can even help ward off disease, according to the World Health Organization. But it's also important to enjoy holidays and the cultural foods that accompany them. So, if you look forward to making and eating homemade tamales with your family on special occasions, enjoy this delicious food to the fullest without counting every calorie.
"Tamales are more than just a dish — they're part of the Latino culture that has been passed down from one generation to the next," explains Rosa Becerra-Soberon, RD, LDN, a licensed registered dietitian at Top Nutrition Counseling. "Tamales are a staple for special celebrations, and it's a way to bring the family together as everyone gathers to make them."
Tip
Tamales vary in calorie count based on how much filling and masa get wrapped inside of each cornhusk — you can estimate about 244 calories for a traditional pork tamale, per the USDA.
Tamales Calories and Nutrition Facts
The calories in tamales, and their other nutrition facts, vary depending on the fillings and portion size. "The best and most fun part of tamales is the filling — there are more than 350 varieties of tamale fillings that range from all different types of savory meats, beans, cheeses and vegetables," Becerra-Soberon says, adding that tamales can be either savory or sweet.
A typical tamale weighs 140 grams, or about 5 ounces. One pork tamale of this size contains the following, according to the USDA:
‌​Calories:‌​ 244
‌​Total fat:​‌ 12.7 g

‌​Saturated fat​:‌​ 3.8 g

‌​Cholesterol:​‌ 662 mg
‌​Sodium:‌​ 5.4 mg
‌​Total carbs:​‌ 22.1 g

‌​Dietary fiber:​‌ 3.4 g
‌​Sugar:​‌ 0.6 g

‌​Protein:‌​ 10.3 g
What you put inside your tamale affects the number of calories just as much as the size. Here are some common tamale filling ingredients and their calorie counts:
When you make tamales at home, you have more control over the calories and ingredients as restaurant food tends to be higher in calories, according to a March 2022 review in ‌Nutrients‌. Restaurants may also have larger portions. A cheese tamale from a restaurant weighs around 179 grams and contains 387 calories, according to the USDA.
Ingredients in Traditional Tamales
Traditional tamale fillings rest atop a layer of masa handmade with lard. "The masa is typically made with corn dough, broth, lard and salt, which is wrapped and steamed in corn husks or banana leaves with different variations of fillings," says Becerra-Soberon, noting that some recipes call for vegetable oils in place of lard.
The mixture gets cut with 2 to 3 cups of broth from the cooked meat (broth has around 2 calories per ounce, per the USDA) and seasoned with 1/2 cup of red chili sauce (5 calories per tablespoon, per the USDA), 1 tablespoon of cumin (23 calories, per the USDA), 2 tablespoons of oregano (5 calories per teaspoon, per the USDA) and 2 tablespoons of salt (0 calories, per the USDA). A couple of teaspoons of baking powder (5 calories per teaspoon, per the USDA) give the dough a lighter texture.
To make your tamale filling, heat 6 tablespoons of meat broth in a large skillet. Add 2 tablespoons of flour (28 calories per tablespoon, per the USDA). Then stir in the chili sauce, oregano, cumin and salt, 1 teaspoon at a time.
Shred your cooked meat and add it to the pan, stirring until the meat is fully coated with the sauce. Once it cools, you're ready to spread soaked corn husks with masa, top it with meat filling, wrap them and tie them securely.
Cook your tamales in a deep pot on a tamale rack above one inch of water. Bring the water to a boil, lower the heat and let the tamales steam for up to 3 hours.
Health Effects of Tamales
Tamales taste great, and they contain some essential nutrients, too. The corn masa provides fiber while the filling is usually a rich source of animal-based protein. "The carbohydrates in tamales give you energy, and the fiber supports a diverse gut microbiome," Becerra-Soberon says.
It's important to be aware of high-calorie foods in your routine meal plan, but tamales are usually reserved for special occasions, so you don't have to alter traditional tamale recipes to make them lower in calories.
Two nutrients Becerra-Soberon warns some to look out for, though, are saturated fat and sodium. People with high cholesterol may need to enjoy traditional tamales in moderation or make more heart-healthy swaps, she says.
"Making, sharing and eating tamales during the holidays is a time of unity, celebration and community," says Becerra-Soberon. "The best part is sharing them with family and friends. A person feels honored to give tamales to others as well as to receive them from others." She says instead of asking yourself, "How many calories are in these tamales?" you should be asking, "How are the tamales?"