Sports supplement manufacturers make a variety of claims regarding products. Some of these claims are accurate, while others are unproved. In the case of aspartic acid, also called DAA, manufacturers claim it boosts testosterone and builds muscle. There is no clinical evidence to support this claim, however. In addition, aspartic acid may have some harmful side effects. As of 2015, sports experts did not recommend supplementing aspartic acid.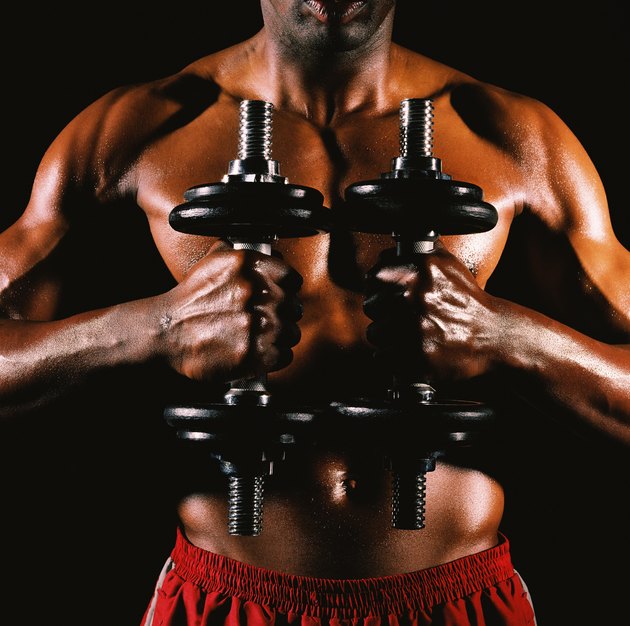 Background on Aspartic Acid
Aspartic acid is an amino acid naturally found in the body. Amino acids are compounds that make up the structure of proteins and exert individual and combined biological activity. Aspartic acid is a nonessential amino acid the body produces on its own. In humans, the acid boosts the production of testosterone, according to a study published in the October 2009 edition of Reproductive Biology and Endocrinology. Another study reported that despite its role in testosterone production, supplementing aspartic acid fails to boost testosterone, muscle building or exercise performance. The study was published in the October 2013 edition of Nutrition Research.
Elevated Liver Enzymes
In the Nutrition Research study, the authors reported abnormally elevated liver enzymes as a side effect of supplementing aspartic acid at the typical dose. The enzymes alanine transaminase and aspartate transaminase are liver proteins and an important marker of liver function. Elevated levels indicate inflammation or damage to the cells of the liver. The data from the study suggested that taking aspartic acid adversely affects liver function.
Elevated Kidney Markers
Kidney function is another marker elevated in volunteers, according to the Nutrition Journal study authors. Kidneys carry out various daily functions that are vital to your health, including filtering waste, regulating acid level, balancing water and helping regulate blood pressure. Renal function markers like creatinine, urea and uric acid are used to evaluate how well your kidneys are working. Elevated markers suggest that supplementing aspartic acid puts a burden on the kidneys, negatively affecting kidney function.
Adverse Cholesterol Effects
Your body's systems work together to keep you healthy. When one organ is negatively impacted, it can influence other health functions. The authors of the study in Nutrition Research reported that, compared to baseline levels, supplementing aspartic acid leads to unhealthy changes in cholesterol. Because the kidneys and liver play a role in regulating cholesterol, the study authors theorized that the adverse effect that aspartic acid has on these organs is likely responsible for the changes in cholesterol.