When stair-stepper machines first burst onto the fitness scene, you could find banks of them in any gym. Each stepper was topped with a spandex-clad man or woman hustling to climb a never-ending flight of imaginary stairs. Although steppers have fallen in popularity since this peak, you can still find at least one or two in most gyms. They offer a good, if somewhat limited, workout for your entire lower body — including your butt.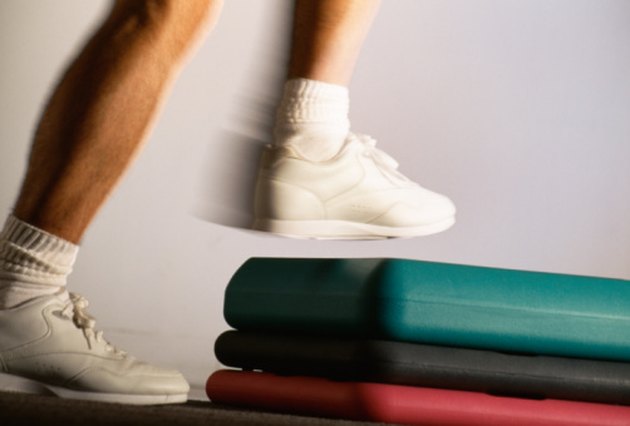 Muscles of the Buttocks
Your buttocks comprise three major muscles: gluteus minimus, gluteus medius and gluteus maximus. As the largest and most superficial of these three muscles, the gluteus maximus does the most to determine the shape of your buttocks. The gluteus maximus primarily produces hip extension, moving your thighs and torso away from each other. Your gluteus medius and minimus also perform hip abduction, moving the thighs away from the midline of the body. You target all three gluteal muscles on the stepper.
Stair-Stepper Motion
When you use a stair stepper, your movement is confined almost entirely to your lower body. Your glutes extend your hip with every step, and they also help keep your hips stable between steps. If your goal is to target your glutes, keep your feet flat on the pedals. Rising onto your toes shifts the primary effort to your calf muscles.
Stair-Stepper Drawbacks
Although the stepper provides a good butt workout, it has a few limitations. The pedals move through a set, linear path, so your muscles work less to stabilize your body on a stepper than they would while moving over uneven terrain or performing balance-oriented exercises like lunges. You can also cheat very easily on a stepper, reducing your workout intensity without realizing it, if you lean forward on the handrails or handles to take some weight off your feet.
Benefits of Steppers
Your gluteal muscles play such a big part in lower-body movement that almost any gym cardio machine will give you a good butt workout. In addition to strengthening your glutes, the stepper offers a few additional benefits. It offers a low-impact workout, with relatively little pounding on your joints. Using a stair stepper is also weight-bearing exercise — as long as you don't cheat — that can help strengthen weak bones. Perhaps more importantly, the stair stepper also helps you lose weight; as the fat comes off, it'll reveal the sleek behind you've been working so hard to create.
Other Exercises
To get the most benefit and best butt workout, use the stepper as part of a comprehensive workout plan including other cardio, stretching and strength-training. Combining other exercises with your time on the stair stepper will challenge your body to adapt faster instead of settling into a plateau. Try performing lunges, squats, squat jumps or even dancing.